A reminder that Yahoo Site Explorer is closing down tomorrow (November 21st ) and I assume that the link and linkdomain commands will go with it, although they are not specifically mentioned (http://www.ysearchblog.com/2011/11/18/site-explorer-reminder/). Webmasters are being told to use Bing Webmaster Tools. This enables you to analyse links to your own domains but is no use if you want to find who links to other web sites as part of research. Bing, or Live.com as it then was, removed its link and linkdomain commands in November/December 2007 and Yahoo was left as the only reliable alternative. The link command enabled you to find who linked to a specific page on the web and linkdomain found links to anywhere on a specified web site. Both were useful ways of finding other sites containing similar content and discovering what others were saying about a page. Google's link command is useless as it picks up a minuscule number of results, which now leaves Blekko (http://blekko.com/) as the only realistic alternative.
Blekko enables you to track down linked pages in two ways but both lead to the same results. The first is to use their slashtags '/links' and '/domainlinks' with a URL or domain name. For example http://www.rba.co.uk/sources/registers.htm /links will find pages that link to my official company registers page whereas http://www.rba.co.uk/ /domainlinks finds all inbound links to my site rba.co.uk.
The second route is via your search results. Below each entry is a downwards pointing arrow. Click on this and select 'links' from the pop-up box.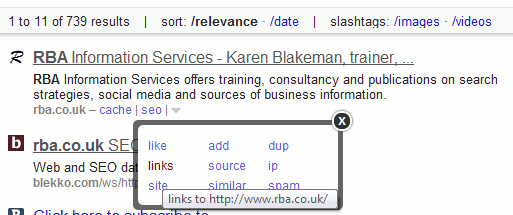 You will then see a list of sites that link to that page.
To view inbound links to the whole of the web site click on the seo option below the result and you will see some statistics together with the total number of inbound links.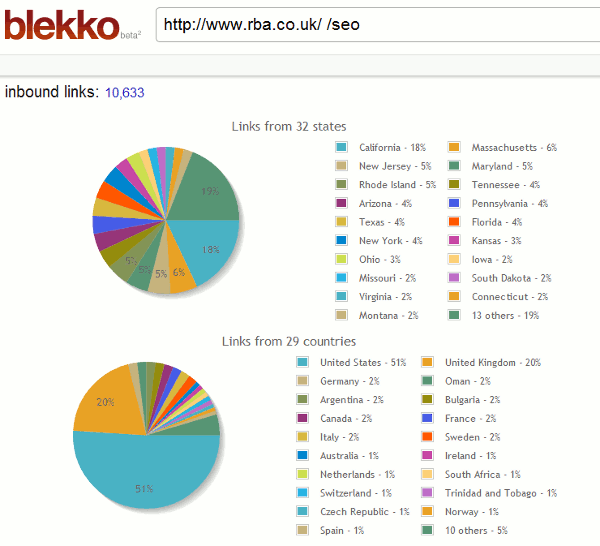 Click on the inbound links number and Blekko presents you with a list of domains containing links to yours and how many.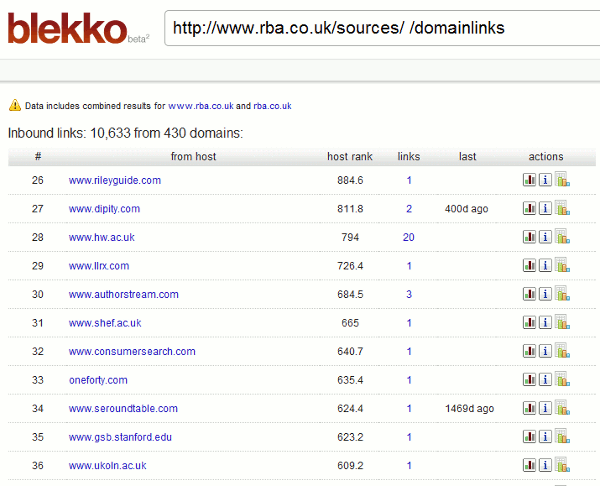 To see exactly where the links are located and where they go to on your site just click on the number in the links column.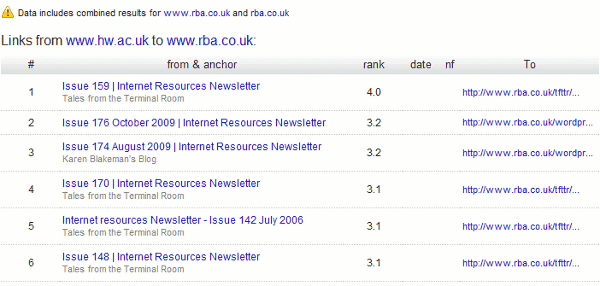 I have only looked in detail at a couple of sites but Blekko seems to do a good job and is certainly far superior to Google. The Blekko data on my own site seems to correspond with that available from Bing Webmaster Tools but of course I cannot compare other sites in the same way. My initial thoughts are that for link searching Blekko is definitely worth adding to your research toolkit.