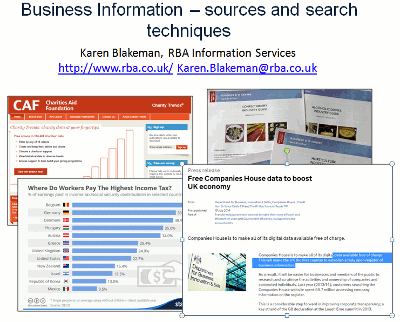 I am running my full day business information, sources and search techniques workshop for the Commercial, Legal and Scientific Information Group (CLSIG).
Date: Thursday, 16 July 2015,  9:30am to 4:30pm
Venue: CILIP, 7 Ridgmount Street, WC1E 7AE London . See map: Google Maps
Cost:  CLSIG/CILIP Members £85;  Non-members  £100; Concessions £50
Contact for bookings: Marie.cannon@nortonrosefulbright.com
For further details of the workshop content contact  karen.blakeman@rba.co.uk
Search engines, government and official information sources, and the EU regulatory environment are continually changing. All of these affect how we search and the information that is presented to us. In some cases information may be deliberately excluded from our results. This one day workshop will look at what's new, key resources for business and official information, and how to use search tools to ensure you are picking up everything that you need. There will be time for practical sessions so that you can try some of the exercises provided, or experiment with your own searches. Lunch and refreshments are included.
Topics covered include:
effect of EU legislation on research and due diligence
increase in official open data – accessibility, quality, usability
changes to Google and other search tools, and their impact on research
starting points, evaluated listings and government sources
company information: official sources; free open data sources worldwide; companies that repackage official company information – pros and cons
news sources and alerting services
the value of social media and professional networks for business intelligence
statistics, market and industry data
Please email Marie Cannon to book your place (Marie.cannon@nortonrosefulbright.com)