One of the most frequently asked questions that land in my inbox is "Where can I find information on [insert company name of your choice]". The enquiry is often about a UK company and comes from ordinary Joe or Josephine Bloggs who knows nothing about sources of business information. Those of you who, like me, have these resources at our fingertips may roll your eyes heavenwards but let's heave a huge sigh of relief that these people are bothering to ask about checking up on a company. On further investigation, many of my correspondents admit that they have been approached over the phone regarding a "once only opportunity" involving the company concerned and are suspicious of the offer. Unfortunately, I also receive emails from people wanting to find out about a company after they have parted with their money.
The first port of call for official information on UK companies is Companies House (http://www.companieshouse.gov.uk/). Not every form of company or organisation is required to register at Companies House: for example, in the UK I am a sole trader and therefore do not have to register or file accounts. I have noticed an increasing number of comments on the web and social media from small businesses who have decided to de-register because of  the bureaucracy. The absence of a registration at Companies House is not necessarily cause for concern but then most of us do not cold call people with an "exclusive investment opportunity"! An easy way to check if there is a problem with a company of any sort is to search for them on Google and include scam or hoax in your search. That may seem obvious but so many victims who contact me never considered that strategy.
So if you have been approached by the likes of Trotters Independent Traders ltd. plc go to Companies House and use the free Web Check option which is in the centre panel on the home page.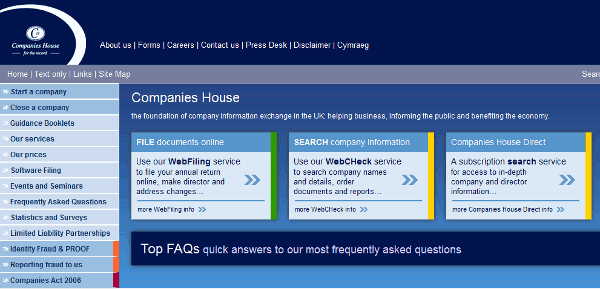 You can search for currently or recently dissolved names, dissolved names, previous names or proposed names. Free information includes name, registered number and address, status (for example active, liquidation), nature of business, date of last accounts. Further information and documents such as accounts and certificate of incorporation are priced at GBP 1 each.
Several other services re-package and sell information from Companies House and in some cases provide some of the additional priced Companies House information free of charge.
Company Check (http://www.companycheck.co.uk/) are part of  UK Data (http://ukdata.com/), which re-sells Companies House documents and provides credit reports. The latter include current and historical credit risk information, director details, ownership and group structure, CCJ information and up to five years of accounting figures including turnover and a profit and loss account if filed. All documents cost GBP 18, which is far more than that charged by Companies House but the credit report may be the better option if you need a detailed report and assessment of the company.
The Company Check free information includes name, registered address and number, telephone number, activity, status, thumbnail of the web site and cash at bank for the last five years. There is also a graph showing the number of website visitors from Compete (http://www.compete.com/), but this information may not be available for smaller companies.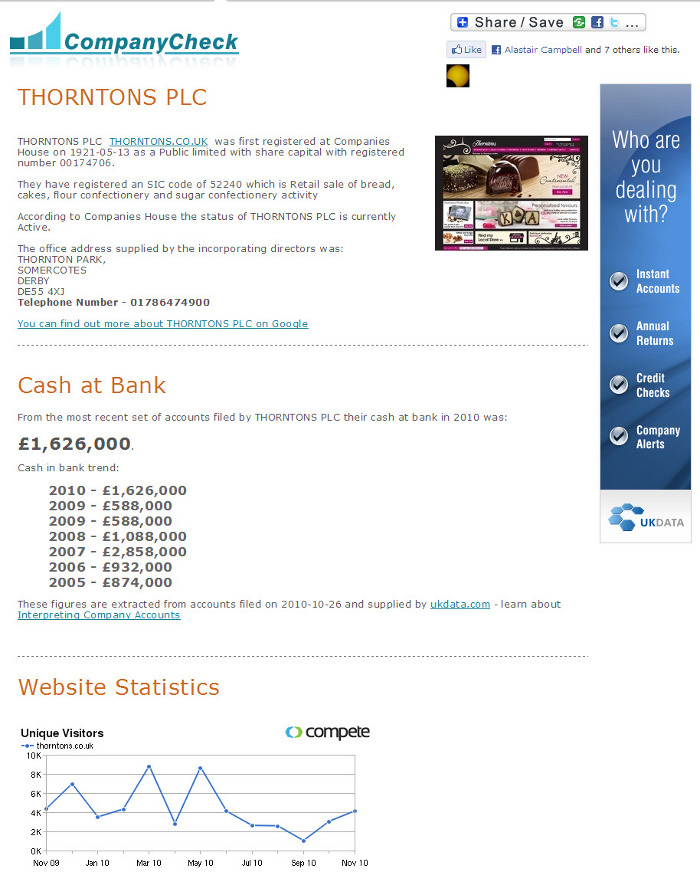 Another source of free company information is the SME Hub Company Accounts Information (http://www.thesmehub.com/benefit/accounts). This is available to SME members only but registration is free. The company address is not displayed but there is a link that takes you to Companies House where you have to re-enter the company name to access the data. There is also a link to Credit Safe for credit reports (http://www.creditsafe.com/).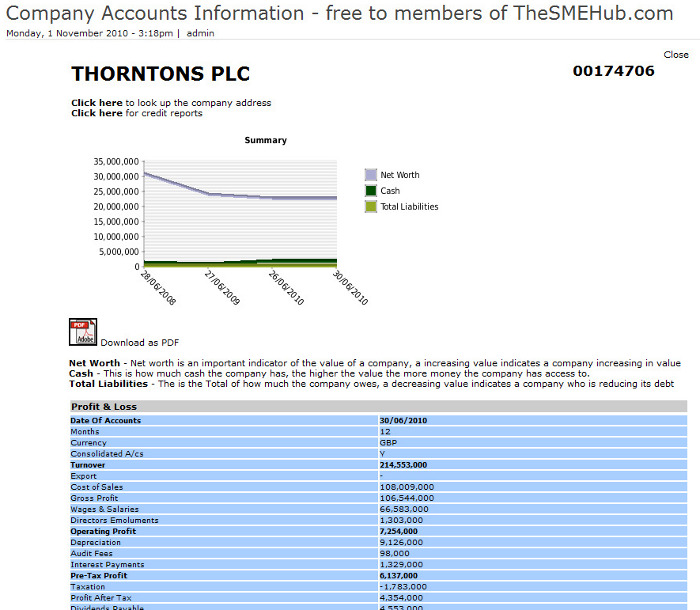 There is a very useful graph showing trends for the company in net worth, cash and total liabilities. The most recent accounts plus a downloadable PDF are also free of charge.
I had problems with the SME Hub when looking at companies that had recently gone into liquidation. Company Check gives its standard information plus the status as "Liquidation" but the SME Hub leaves you guessing by presenting you with an empty template.
Company Check and the SME Hub are quick and easy ways to access the free and some of the priced Companies House information. Company Check offers the Companies House free registration data and five years of cash at bank: the SME Hub provides a trends graph of net worth, cash and liabilities plus latest accounts but no basic contact or status information. Both can alert you to potential problems with a company but, ultimately, Companies House is the place to go for the original data.