I recently received an email from a friend asking about whether it was acceptable for a student to cite Google as a source in their work. My friend's instinct was to say no, but there was a problem getting beyond Google and to the original source of the answer. The student had used the Google define search option to find a definition of the term "leadership", which Google duly did but failed to provide the source of the definition. My response to citing Google as a source is always "No" unless it is an example of  how Google presents results or a comment on the quality (or lack of it) of the information that has been found. The results that appear at the top of the results, such as the definitions or the new quick answers, have been created and compiled by someone else so Google should not get the credit for it. In addition, what is displayed by Google in response to the search will vary from day to day and in creating these quick answers Google sometimes introduces errors or gets it completely wrong.
There have been several well documented instances of Google providing incorrect information in the knowledge graph to the right of search results and in the carousel that sometimes appears at the top of the page (see http://googlesystem.blogspot.co.uk/2013/11/google-knowledge-graph-gets-confused.html and http://www.slate.com/blogs/future_tense/2013/09/23/google_henry_viii_wives_jane_seymour_reveals_search_engine_s_blind_spots.html). The same problems beset the quick answers. For a short time, a Google search on David Schaal came up with a quick answer saying that he had died on April 11th, 2003! (As far as I am aware, he is still very much alive).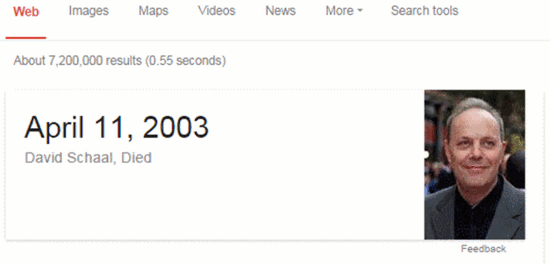 No source was given nor was there any indication of where this information had come from. Many have questioned Google on how it selects information for quick answers and why it does not always give the source. Google's response is that it doesn't provide a link when the information is basic factual data (http://searchengineland.com/google-shows-source-credit-quick-answers-knowledge-graph-203293), but as we have seen the "basic factual data" is sometimes wrong.
Quick answers above the Google results have been around for a while. Type in the name of a Premier League football club and Google will give you the results for the most recent match as well as the scores and schedule for the current season. Not being a fan myself I would have to spend some time checking the accuracy of that data or I could, like most people, accept what Google has given me as true. Looking for flights between two destinations? Google will come up with suggestions from its Google Flights; and this is where it starts to get really messy. I've played around with the flights option for several destinations. Although Google gives you an idea of which airlines fly between those two airports and possible costs, the specialist travel sites and airline websites give you a far wider range of options and cheaper deals. It is when we come to health related queries, though, that I have major concerns over what Google is doing.
Try typing in a search along the lines of symptoms of [insert medical condition of your choice] and see what comes up. When I searched for symptoms of diabetes the quick answer that Google gave me was from Diabetes UK.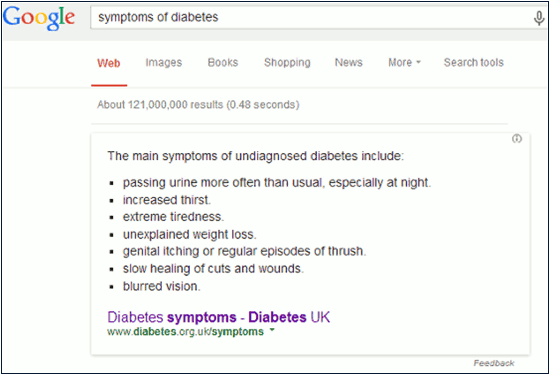 At least Google gives the source for this type of query so that I can click through to the site for further information and assess the quality. In this case I am happy with the information and the website. Having worked in the past for an insulin manufacturer I am familiar with the organisation and the work it does. It was a very different story for some of the other medical conditions I searched for.
A search for symptoms of wheat intolerance gave me a quick answer from an Australian site whose main purpose seemed to be the sale of books on food allergies and intolerances, and very expensive self-diagnosis food diaries. The quality of information and advice on the topic was contradictory and sometimes wrong. The source for the quick answer for this query varied day by day and the quality ranged from appalling to downright dangerous. A few days ago, it was the Daily Mail that supplied the quick answer, which actually turned to be the best of the bunch, probably because the information had been copied from an authoritative site on the topic.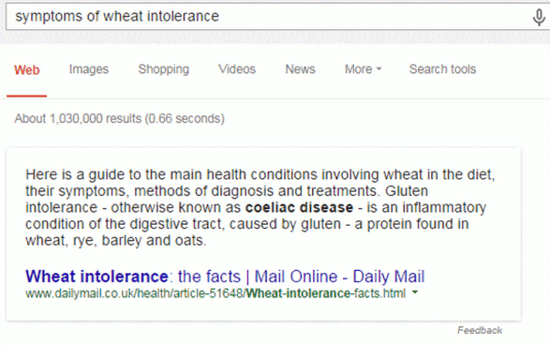 Today, Google unilaterally decided that I was actually interested in gluten sensitivity and gave me information from Natural News.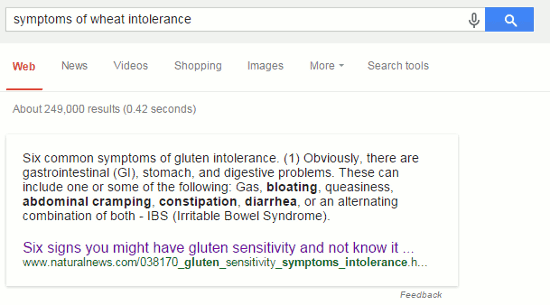 I shall leave you to assess whether or not this page merits being a reliable, quick answer (the link to the page is http://www.naturalnews.com/038170_gluten_sensitivity_symptoms_intolerance.html).
Many of the sources that are used for a Google quick answer appear within the first three results for my searches and a few are listed at number four or five. This one, however, came in at number seven. Given that Google customises results one cannot really say whether or not the page's position in the results is relevant or if Google uses some other way of determining what is used. Google does not say. In all of the medical queries I tested relevant pages from the NHS Choices website, which I expected to be a quick answer in at least a couple of queries, were number one or two in the results but they have never appeared as a quick answer.
Do not trust Google's quick answers on medical queries, or anything else. Always click through to the website that has been used to provide the answer or, even better, work your way through the results yourself.
So what advice did I suggest my friend give their student? No, don't cite Google. I already know who Google currently uses for its define command but a quick way to find out is to simply phrase search a chunk of the definition. That took me straight to an identical definition at Oxford Dictionaries (http://www.oxforddictionaries.com/), and I hope that is the source the student cited.