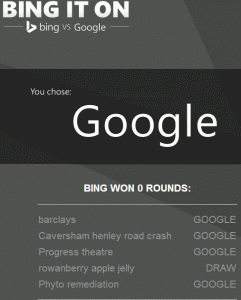 Just over a year ago Bing launched a website called Bingiton (http://www.bingiton.com/), which enabled you to compare search results from Google and Bing side by side and then decide which set was best. You had to run five searches and then Bingiton told you which search engine you had chosen for each. After a couple of weeks the site was restricted to US users but it has now been relaunched in the UK.
The principle remains the same: you type in five searches, Bingiton displays the two sets of results side by side, and you decide which you prefer or go for the draw option ("can't decide").
I ran several batches of searches through Bingiton and Google won 4 of the rounds. The fifth, which consisted of searches for cake and jam recipes, was a draw with me being unable to decide. Two other rounds had to be declared null and void because "Scholarly articles" links (Google Scholar) appeared at the top of one set of results indicating that they were from Google. Another included what was obviously a Google map!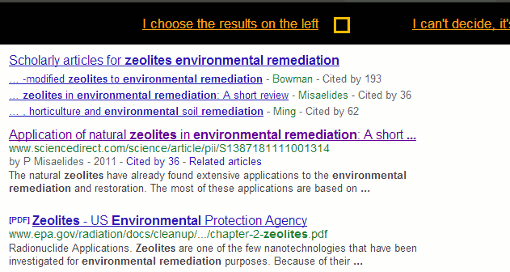 For me Bing seemed to be better at recipes and shopping enquiries than research oriented queries. Google consistently came out on top for local information and current news. Phil Bradley has also blogged about Bingiton (http://philbradley.typepad.com/phil_bradleys_weblog/2013/10/bings-bing-it-on-challenge-returns-to-the-uk.html) and invited people to comment on their own results. It is an interesting mix and Google does not always win or win outright. Take the Bingiton challenge yourself at http://www.bingiton.com/.