This is my usual Christmas/New Year reminder to never trust Google's answers (or Bing's) on opening times of shops over the holiday season, especially if you are thinking of visiting small, local, independent shops.
I was contemplating going to our True Food Co-operative but suspected that it might still be shut. A search on my laptop for True Food Emmer Green opening times gave me a link to their website at the top of the results list. On the right hand side was a knowledge graph with information on the shop, it's opening times and reviews that had been compiled from a variety of sources . For most of it the source of the information is not given.  On my mobile and tablet it is the knowledge graph that appears at the top of the results list and  takes up the first couple of screens.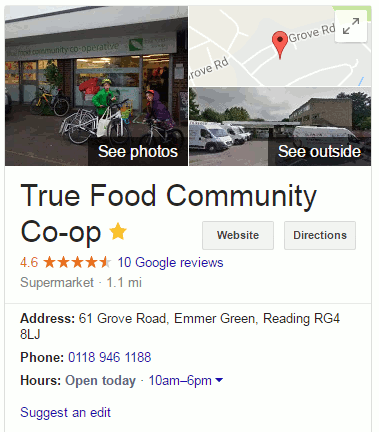 It claims that the shop is "Open today 10am-6pm" [today is Thursday, 29th December].
When I go to True Food's website it clearly states near the top of the home page that they are currently closed and re-opening on 4th January 2017.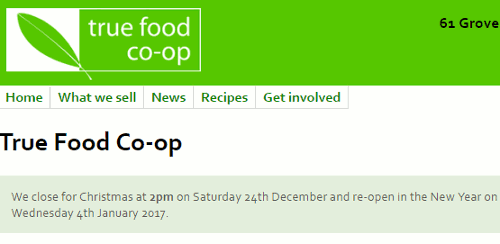 Google gets it wrong again in the knowledge graph but so does Bing. So, always check the shop's own website, and if you are searching on your mobile or tablet please make the effort to scroll down a couple of screens to get to links to more reliable information.