When it comes to researching a market or industry sector the major national and international players are generally well covered by the established market research publishers. If you are looking at a highly specialised sector, are interested in smaller companies or just want to know who is doing what in a town or county then direct marketing lists can be the cheaper and better option. The source I often use is a UK based service called MarketingFile.com (http://www.marketingfile.com/). They have been around for a while but continue to update their services and ensure that the databases they offer are regularly checked and cleaned.
MarketingFile's lists are divided into business and consumer marketing and further segmented by communication channel: postal, email, fax or telemarketing lists. You can drill down further and specify key job roles, industry sectors, geographic areas and company size. For consumer lists you can segment by criteria such as geographic areas, household finances, interests, investments, cars driven and charities supported.
For each list there is information on coverage, pricing and selection criteria.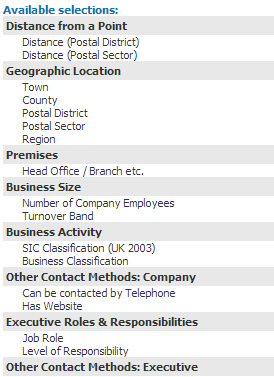 You have to register to search the lists but registration is free of charge. The search screen makes it easy to select and combine multiple criteria and the number of results (counts), which is sometimes all one needs to know, is free.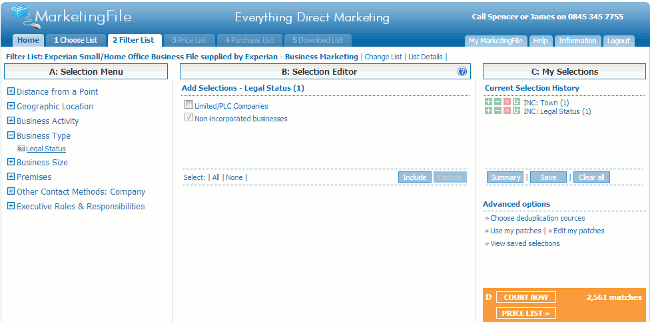 The full data is charged on a per record basis and you can also opt to have only those records that include named contacts. If you are on a limited budget or want to test a sample of the data you can request a specific number of records for example 50, 100, 200, 1000.
MarketingFile have extended their services and now offer complementary services such as printing and posting of letters, postcards and inserts. They have a 100% Delivery Guaranteed offer on email and postal lists which offers 50p per item towards your postage for mail "goneaways" and 5p – 10p per item towards broadcast costs for email hard bounces.
It is not always easy to identify the most appropriate list for your research. Rather than waste time trying different lists I'd recommend that you contact their helpline, which is based in the UK. They will be able to give advice on the best strategy for your research or project.