viaLibri searches for old and rare books on eighteen different web sites that aggregate the inventory of hundreds of antiquarian booksellers world-wide. You can search by a number of criteria including author, title, imprint, publication years (before/after), price, first edition and keyword. As the interfaces and search options of the individual sites are different you may get no results at all if your search is too narrow, so it pays to start off with a relatively broad search. You can always edit your search later and add extra criteria.
You can sort the results by year of publication, price, author, title or bookseller and then click on the individual links to view further details of the book or buy it from the bookseller.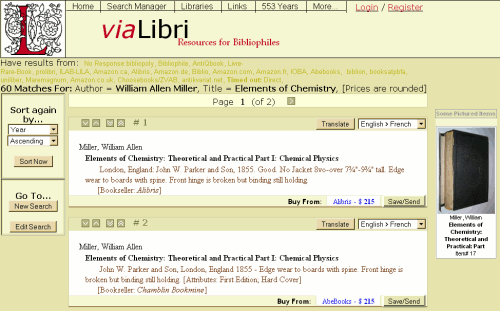 There is also a Quick Query Library Search that searches 72 online library catalogues including Worldcat, Copac, National Union Catalogues and National Libraries. You can use viaLibri's Quick Query, which only searches on author, title or keywords, but enables you to click and run your search in each catalogue in turn without re-typing your search. Alternatively you can click through to each of the catalogues advanced search screens, but you will have to re-enter your search terms.
A very nice site if you are trying to locate a rare book for purchase or if you just want to find a copy in a local library for research purposes.