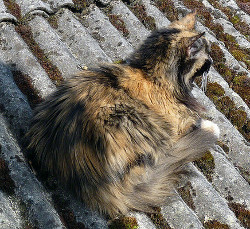 A few days ago Flickr revamped its website yet again. Flickr users have become used to changes that offer no improvements in functionality, and it rarely comes as a surprise that some aspects of the service are sometimes made worse. The most recent updates did not seem to be that significant. The layout is different; search is just as bad as ever with odd and irrelevant results popping up; and you still cannot directly edit an incorrectly, Flickr assigned location. The last is possible but it involves a somewhat Heath Robinson approach, more of which in a separate posting.
This time, though, Flickr has made a huge mistake. It has been using image recognition technology for about a year to automatically generate tags for users' photos but, until now, those tags have been hidden from users. They are now visible. The official announcement is on the Help Forum, Updates on tags (http://www.flickr.com/help/forum/en-us/72157652019487118/) followed by many pages of users comments, mostly negative. Flickr's mistake is not in making the tags visible or doing the tagging at all, but in not allowing users the option to opt-out or offering a global tag deletion tool.
The computer generated tags have been added retrospectively to everyone's photos, so some of us now have the prospect of checking thousands of images for incorrect or irrelevant tags. My experience, so far, is that most of them are useless. I honestly cannot see how the tags "indoor" or "outdoor", which seem to be applied to the majority of my photos, are helpful in a search. If the auto generated tags have already been used in Flickr's search it would explain why the results are often rubbish.
It is easy to spot the difference between user and Flickr generated tags: the former are in a grey box and the latter in a white or light grey box.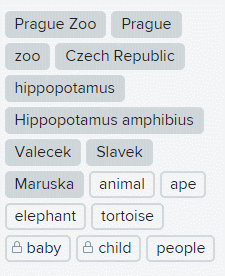 If you want to delete a Flickr generated tag you have to do it tag by tag, photo by photo. Do not go on a tag deletion frenzy just yet, though. There are reports that the deleted tags sometimes reappear.
Oddities that I have spotted so far in my own photostream include a photo of our local polling station auto-tagged with "shop" (http://www.flickr.com/photos/rbainfo/17209179077/), and an image of a building site tagged with "snow" (http://www.flickr.com/photos/rbainfo/17332657995/). I suspect that in the latter case Flickr was confused by the amount of dust and debris surrounding what remains of the buildings.
To see the full horror of what Flickr has done, click on the Camera Roll link on your Photostream page and then Magic View. My cat has been tagged several times as a dog and once as abstract, which I suggest should be replaced by "Zen". And to a photo of three hippos in Prague Zoo have been added animal, ape, elephant, tortoise, baby, child and people (http://www.flickr.com/photos/rbainfo/8712618469/). Note that Magic View only uses Flickr auto generated tags; we users are obviously not to be trusted!
I admit that there are a handful of instances where Flickr has reminded me of potentially relevant tags, so I might be tempted by an option whereby Flickr suggests additional tags. But I want to make the final decision as to whether to add them or not. I most certainly do not want Flickr adding, without my permission, thousands of tags to my back catalogue. And by the way, Flickr, whatever happened to my privacy setting of who can "Add notes, tags, and people:Only you", which you have clearly breached.
It is bad enough to have to deal with the rubbish that Google dishes out, but to have to cope with Flickr's lunacy as well is too much. Flickr, you have seriously messed up this time. Many of us do know what we are doing most of the time when we tag our photos. Carry on down this route and you won't just annoy your users but risk losing a substantial number of them, some of whom pay for Pro accounts.