Voting in the UK election has finished and the results are in, but the dust has most definitely not settled. It looks as we in the UK are in for interesting times ahead. It would help those of us researching the various political parties and policies if Google could at least get the basics right, such as who is now the Member of Parliament for a particular constituency.  I am in Reading East and we have switched from a Conservative MP to Labour (Matt Rodda). Out of curiosity, I tried a search in Google on Reading East constituency.  This is what Google's Knowledge Graph came up with: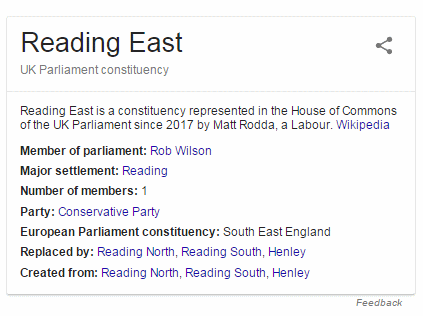 I took this screenshot yesterday (Friday, 9th June)  at around 8 a.m. and expected to see Rob Wilson given as the MP throughout . I was impressed, though, to see that the snippet from Wikipedia correctly gives Matt Rodda as our MP. Whoever had updated that entry was pretty quick off the mark. Possibly a Labour Party worker? The rest of the information, which is taken from Google's database of "facts", is either wrong, confusing or nonsensical.
"Member of Parliament: Rob Wilson" – wrong.  But he was MP until around 4 a.m. on the 9th June when the result of the election in Reading East was announced, so perhaps I am expecting a little too much from Google to be that quick about updating its facts.
"Major settlement: Reading" – yes we are part of Reading but I find it strange that it is referred to as a major settlement rather than a town.
"Number of members: 1" – not sure why that is there as each constituency can only have one MP.
"Party: Conservative" – correct for Rob Wilson but the new MP is Labour. 
"European Parliament constituency: South East England" – correct!
The final two lines "Replaced by:" and "Created from:" had me totally flummoxed. The entries are the same  – Reading North, Reading South, Henley.  Reading North and Reading South were constituencies formed by splitting the Reading constituency in 1950. They were then merged back into Reading in 1955, re-created in 1974, and in 1983  Reading East and West were formed (Yes, it's complicated!). As for Henley, it is not even in the same county.  I can only think that this comes from Caversham (now part of Reading East) being part of Oxfordshire until 1911, when it probably did fall within the Henley constituency.   The "Replaced by" is wrong because Reading East has not been replaced by anything. Google can't even blame a template that has to be filled in with information at all costs because different information appears in the Knowledge Graph depending on the constituency.
Here is the information for Aylesbury: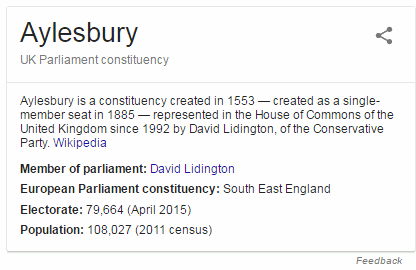 And the one for Guildford: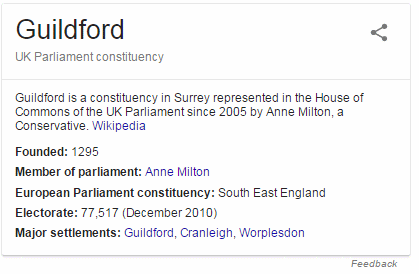 Going  back to the how up to date the information is,  how quickly does Google update their "facts". Rob Wilson was still our MP mid Friday afternoon. I submitted feedback using the link that Google provides at the bottom of each Knowledge Graph but this morning (10th June) nothing had changed. I'll update this posting when it does change.
I would hope that most people would look at the other links in the search results, in this case the latest news, but preferably a reliable  authoritative source.  The list of MPs on the UK Parliament website would be an obvious choice but might take a day to be updated after an election. Just don't rely on Google to get it right.