Google has added cycle routes and directions to its UK maps. The feature has been available on US and Canadian maps since 2010 but has now been extended to the Europe and Australia. In the UK Google has been working with Sustrans (http://www.sustrans.org.uk/) to include bike trails, lanes and recommended roads. Set your starting point and destination as usual and the directions area on the screen should include a bicycle icon in addition to the car, public transport and walking icons.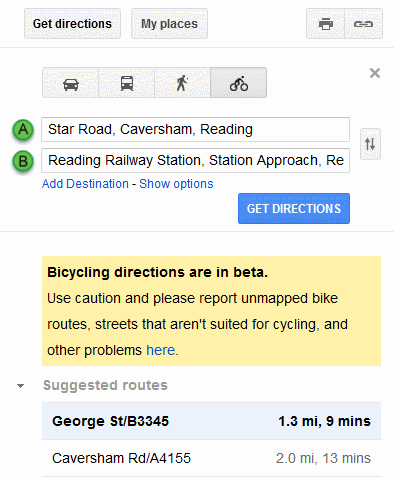 Select a suggested route and as well as text instructions it will be outlined in blue on the map. The "bicycling layer" also shows trails (dark green lines), dedicated lanes (light green lines) and bicycle friendly roads (dotted green lines). Google came up with two routes from my house to Reading Railway Station. The first more direct one followed the roads.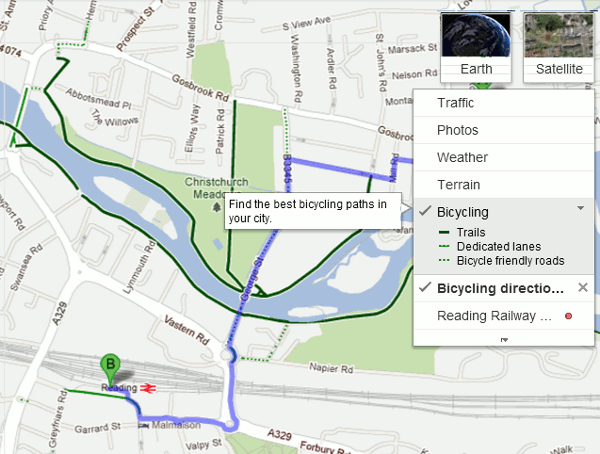 The second suggestion took the scenic route along the river, which would be more pleasant and probably safer during the rush hour.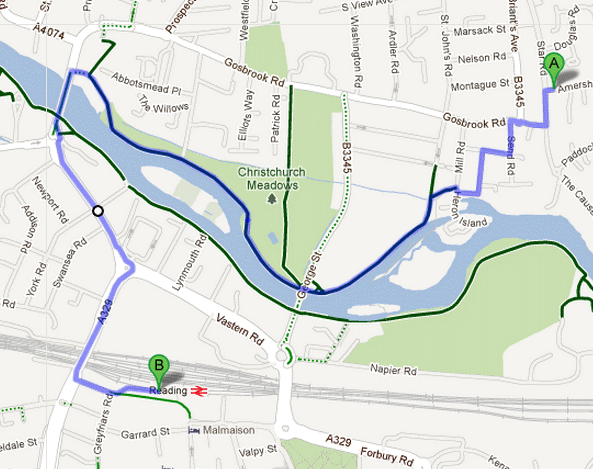 The directions come with the usual warning that they are in beta and that you should use caution. There is an option to report unmapped bike routes, streets that aren't suited for cycling, and other problems.
Further information is available on Google Lat Long: Biking directions expands into Europe and Australia (http://google-latlong.blogspot.co.uk/2012/07/biking-directions-expands-into-europe.html. The Guardian Bike Blog has tested out a couple of routes in London (Google Maps' cycle routes: just how good are they?  http://www.guardian.co.uk/environment/bike-blog/2012/jul/12/google-maps-uk-cycle-routes?) and set up a Twitter hashtag #cycletest for cyclists to comment on the routes they have tried.