Oh what fun we had beating Google into submission on June 28th! This advanced Google workshop was held at Reading University and covered some of the new goings on at Google (no more 'ANDing' for search terms, personalisation of results) as well as the some of the established techniques for making Google behave itself. The following is what the group came up with at the end of the day as their collaborative top tips for persuading Google to run your search the way you want it run.
1. Search settings
Use the search settings to:
alter the level of the safe search
switch on/off Google Instant. This is the feature that changes and displays results as your type in your search. Some people find it useful whilst others find it extremely irritating. A big disadvantage of it is that it only displays 10 results per page.
increase the number of results per page from 10 to up to 100. Since you can no longer guarantee that you will find the most relevant page in the first 10 results this enables you to view more without having to click through to the next page. Google Instant, which allows only 10 results per page, must be switched off.
open results in a new browser window or tab. This allows you to view results while leaving your search page intact in a separate tab or window.
switch on/off or edit your search history. Search history is used by Google to customise your results and some people prefer to switch it off. It can, though, provide a useful record of the searches you have carried out and the pages that you have visited from that search.
Search settings is hidden under the cog wheel which appears in the upper right hand area of your results page. In some browser versions it appears in the top right hand corner of the Google home page. The Advanced Search screen link is also hidden under the cog wheel.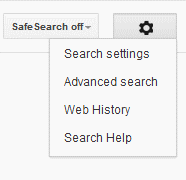 2. Sign out of all social media and search engine accounts
Both Google and Bing are experimenting with including content from your social media connections in your search results when you are signed in to your networks. For Google, the Google.com version is where it is happening at the moment and it pulls in content from members of your Google+ circles. to see Bing's new social sidebar, which includes content from Facebook friends and Twitter,  you have to use the US version of Bing.  The Google+ results are intermingled with the main results whereas Bing displays then in a separate sidebar on the right of the results page. For more details see Danny Sullivan's article Bing Relaunches, Features New Social Sidebar http://searchengineland.com/the-new-bing-microsoft-tries-again-with-search-meets-social-120728
Including posts from your social network friends in your results is not always a bad thing. You may uncover valuable information and gain a different perspective on the subject of your research. There is, though, the issue of privacy. A contact in one of your Google+ circles may have posted a comment and restricted it to a circle of which you happen to be a member, so it is not public. If you want to include the information in a print out or report for a client you will have to seek permission first. Even if you try and anonymise the information there may still be enough clues to identify the source.
3. Check out Google.com as well as Google.co.uk
Apart from presenting your search results in a different order Google.com is where Google tries out new features. As well as seeing pages that may not be highly ranked in Google.co.uk you will get an idea of the future direction of Google search.
4. Limit by date.
Use the date options in the menu on the left hand side of the results page to limit your results to the last day, week, month, year or within a custom date range. This tends to work best with blogs and news sources. With ordinary web pages Google looks at the time stamp that is assigned to a page when it is uploaded, or reloaded, to the web site. This can be very different from the date on which  it was written. If you are looking for recent material it will, though, exclude pages that have been languishing untouched on a web site for years. To see the date option you have to click on the 'More search tools' options at the bottom of the menu.
5. Verbatim.
The essential tool for taming Google. Google automatically looks for variations of your terms, which is not always helpful. Prefixing a term with the '+' sign to force an exact match no longer works in web search, but confusingly still does  in Google Scholar, and Google has suggested using double quote marks around terms or phrases instead. This does not always work.  And now Google no longer looks for all of your terms in a document. If you want Google to run your search exactly as you have typed it in, click on the 'More search tools' options at the bottom of the left hand menu on your results page and then click on Verbatim at the bottom. Unfortunately, Verbatim does not work with the date options but there is a solution….see number 6 below.
6. Combining with Verbatim with date limits.
There are two ways to do this: the hard way and the easy way.
First of all the hard way. This uses the 'daterange:' operator and Julian dates. Daterange does not understand the mm/dd/yyyy or dd/mm/yyyy date formats. You have to convert your dates to Julian date format. This is explained on the Julian Date Converter page at http://aa.usno.navy.mil/data/docs/JulianDate.php and there is a handy tool that will do the date conversion for you. You then copy the Julian date omitting the fraction and paste it into your search. For example if you are looking for  pages mentioning housing benefits Cameron between June 20th and June 26th 2012:
daterange:2456098-2456104 housing benefits Cameron
Once the results are displayed use the Verbatim option to force Google to look for exactly what you've asked for.
Now the easy way. There are several tools that will carry out a date limited Google search and one of them can be found at http://gmacker.com/web/content/gDateRange/gdr.htm (many thanks to Richard Clauson who found this for us). Simply fill in the boxes and on the Google results page click on Verbatim at the bottom of the left hand menu.
Why have I detailed the hard way? Because the easy tools may stop working or disappear without trace.
7. Results page sidebar.
Use the sidebar on the left hand side of the results page to focus your search and extra search features. To see all of the options click on the 'More' and 'More search tools' links. The content of the sidebar changes with the type of search you are running, for example Image search has a colour option.
8. Google Art Project http://www.googleartproject.com/
This is a collaboration between Google and over 150 galleries from across the world.  You can take a virtual tour of a gallery and zoom in on a painting to see the brushstrokes. You can view paintings and drawings by gallery or by artist. Warning: this is highly addictive!
9. Numeric range.
Use this for anything to do with numbers – years, temperatures, weights, distances, prices etc. Use the boxes on the Advanced Search screen or just type in your two numbers separated by two full stops as part of your search. For example:
world oil demand forecasts 2015..2030
10.  Repeat your search terms one or more times. 
Ideal for getting out of a search rut or forcing Google to give you different results. Repeat your main search term or terms to change the order of your results – sometimes radically.