The University of the West of England (UWE) hosted the UKeiG 8th September workshop on business information. The list of participants included people from academic libraries, public libraries, the legal sector and freelance researchers. The day got off to an interesting start with one of the participants telling me that a colleague of theirs thought there wasn't any quality business information on the web! I hope I proved them wrong. Some of the materials provided on the day can be found on my web site at http://www.rba.co.uk/bi/. Please note that SocialMention, which is mentioned in the latter part of the PowerPoint presentation, has been down for nearly five days and we have to assume that it is "no more". [Update 10th September: after nearly a week offline SocialMention is now back online].
Those of you who have attended my Google, general search or business information workshops will know that towards the end of the afternoon I always ask the group to come up with a list of top ten tips. These can be useful sites that they have discovered during the day, essential services that they already use or commands that help focus the search. A combined list of tips from previous business information workshops is at http://www.rba.co.uk/bi/TopBusInfoSearchTips.pdf. Below, in no particular order, are the new tips from the 8th September workshop.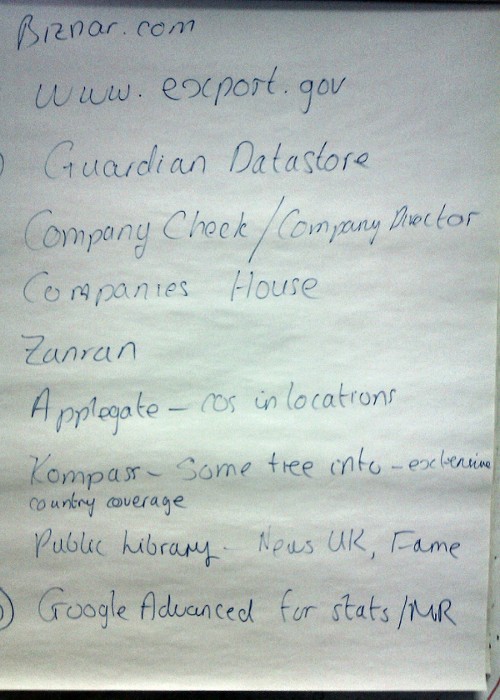 1. Biznar http://www.biznar.com/ Biznar is a federated search engine that runs your search in real-time in about 80 resources. There is a list on the Advanced Search screen where you can deselect individual or groups of resources. Many of the workshop participants de-selected Google Groups, which seemed to their dominate results, and some went as far as to exclude the whole Blogs and Social Networks group. The results are combined into a single list and on the left hand side of the scree are organised into folders such as Topics, Authors, Publications, Publishers and Dates. These are computer generated but can help you narrow down your search.
2. Export.gov http://export.gov/"Helping U.S. companies export". Information on markets and doing business outside of the US. As the strap line of the web site suggest this is aimed at US companies but the reports contain information that is relevant to anyone looking at external markets.
3. Guardian Data Store http://www.guardian.co.uk/data Visualizations and mashups of data relating to major stories in the news. Links to the original datasets are provided so that you can download the raw data.
4. Company Check http://www.companycheck.co.uk/and Company Director Check http://company-director-check.co.uk/. Both services use Companies House data. Company Check provides 6 years of figures and graphs for Cash at Bank, Net Worth, Total Liabilities and Total Current Liabilities free of charge and lists the directors of a company. Click on a director's name and you are taken to the Company Directory Check – launched last week – where you can view other current and past directorships for that person.
5. Companies House http://www.companieshouse.gov.uk/. The official registry for UK companies. Services such as Company Check and Bizzy (http://bizzy.co.uk/) may provide more information free of charge but it is always worth double checking with Companies House to see if there is more up to date information. The list of documents available for a company in combination with the free services may be enough for you to make a decision on whether or not to do business with that company. Use the free WebCHeck service to locate the company in the register and then click on "Order information for this company". You will then see a list of available documents: titles such as "Struck off and dissolved" followed by "Application for administrative restoration" might suggest that you should run a mile!
6. Zanran http://zanran.com/ This was recommended for identifying charts, graphs and tables of data in PDFs and Excel spreadsheets. Run your search and Zanran comes up with PDF and spreadsheet files that match your criteria. Hover over the file icon in your results list and you will see a preview of the page that contains your data. We did come across a few oddities: my test search on gin vodka sales uk came up with the bar menu for the Time & Space Restaurant at the Royal Institution of Great Britain. The Zanran "About us" page tells you more about what they do (http://zanran.com/help/about_us)
7. Applegate directories http://www.applegate.co.uk/ A collection of business directories for electronics, engineering, plastics, rubber, chemical, oil, gas and recruitment services covering the UK. Recommended for generating lists of companies by location.
8. Kompass http://www.kompass.com/. Well established directory with world-wide coverage (some of us can remember the black, hard copy volumes!) Search is free and some results are free. Pay as you go options are reasonably priced and there is extensive country and industry coverage.
9. Public libraries' databases and resources. A reminder from the public libraries contingent that you can access their resources free of charge for personal use from your desktop using the identification on your library card, for example NewsUK and the The Times Digital Archive. Some library authorities also provide access to business databases.
10. Google Advanced Search Use the advanced search screen or commands to help focus your search on statistics and market research. For example use the 'filetype:' command to search for spreadsheets containing statistics or PDFs of industry/government reports. Use 'site:" to focus your search on academic or government sources, for example site:ac.uk.