Yes, I am talking to you Google and  this time you really have gone too far.
All I wanted to do was check up on the background of a photo I had taken of the wall surrounding the graveyard of a church in Reading. The church in question is St Laurence. We have all become accustomed to the "Did you mean….?" option at the top of our search results. I found it invaluable early in the morning or late at night when typos were inevitable in my search strategy: yes, thank you, I really did mean 'widget manufacturers' and not 'wigdet manufacturers'. Recently, though, Google has abandoned the optional corrected search and now runs instead the corrected strategy as the default with yours as the extra option. Google has taken this a stage further and runs your search as it thinks fit.
So Google decided that I really meant to search for Saint Lawrence and has included that in the search. There is no option to search on just Saint Laurence: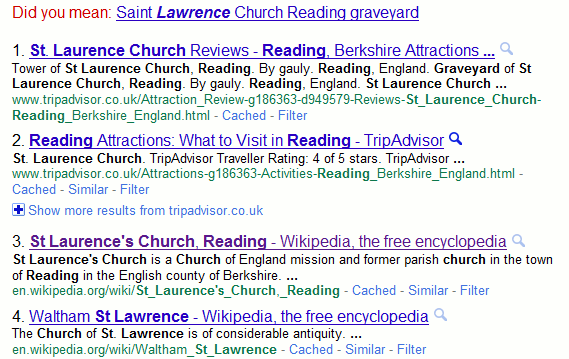 On this occasion there were some relevant pages in my results. But yes, Google, I really did want to search for Saint Laurence! Now, it seems, I have to prefix all of my search terms with a plus sign or enclose them in double quote marks to stop Google's dictatorial behaviour.  But why should I have to do that?
In one of my presentations last year on Google vs. Bing/Yahoo I commented that Google would have to do something really stupid before users would switch to another search engine. For me, Google has done that really stupid thing. I am now seriously contemplating switching search engines for basic web searching. My final decision will be based on relevance of results and how quickly they are delivered. I have to spend too much time and click too many times to get them on Google
UPDATE: It has just got worse. I tried a search on the phrase "Saint Laurence" thinking Google would carry out an exact match search, but Google will have no truck with such obvious ploys. (Ignore the Twitter search at the top of the results screen – that is a Greasemonkey script add-on for FireFox).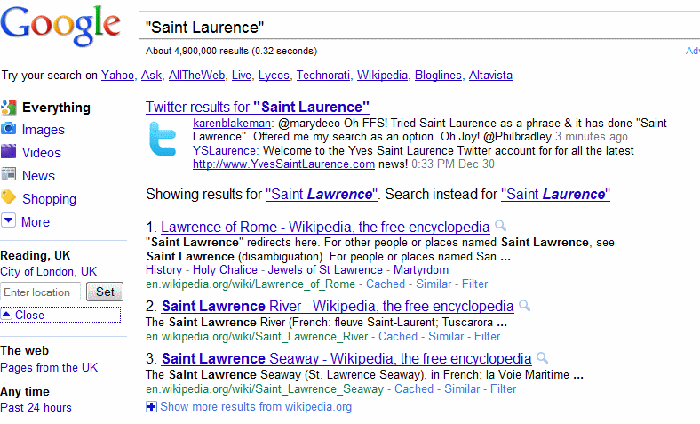 I now have to click on the option for "Saint Laurence" to get results for the search I had originally requested. Putting a plus sign before my phrase in the search box does not change Google's mind. "Excuse me, Google, but I do know what I am doing and when I tell you to carry out an exact match search I WANT AN EXACT MATCH SEARCH! Got it?"