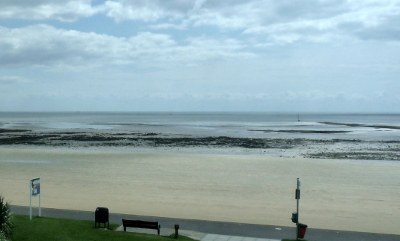 Towards the end of June I headed off to Swansea Central Library to facilitate a workshop on search tools and techniques for finding business information and statistics. The session was organised for the libraries of the wonderfully named SWAMP – South West and Mid Wales Partnership.
We had fantastic views from the library of the sea and shore line so they did very well to remain focused on the work in hand. The top tips that the group suggested at the end of the day were a mixture of search techniques and business information sites.
1. Persistence.
Don't give up and don't get stuck in a rut. If your first attempts fail to produce anything useful try a different approach to your search. Try some of the tips mentioned below: use advanced search commands, a different search tool or go direct to a website that covers your subject area or type of information.
 2. Verbatim.
Google automatically looks for variations on your search terms and sometimes drops terms from your search without telling or asking you. To beat Google into submission and make it run your search exactly as you have typed it in, click on 'Search tools' in the menu above your results, then click on the arrow next to 'All results' and from the drop down menu select Verbatim.
3. Private Browsing.
To stop search engines personalising your results according to your previous searches and browsing behaviour, find out where the private browsing option is in your browser (in Chrome it is called Incognito). This ignores all cookies and past search history and is as close as you can get to unfiltered results.
Short cuts to private browsing in the main browsers are:
Chrome – Ctrl+Shift+N
FireFox – Ctrl+Shift+P
Internet Explorer – Ctrl+Shift+P
Opera – Ctrl+Shift+N
Safari – click on Safari next to the Apple symbol in the menu bar, select Private Browsing and then click on OK.
4. The site: command.
Include the site: command in your search to focus your search on particular types of site, for example site:ac.uk, or to search inside a large rambling site. You can also use -site: to exclude sites from your search. For example, if you are searching for information on Wales and Australian websites mentioning New South Wales keep coming up include -site:au in your search.
5. The filetype: command.
Use the filetype: command to limit your research to PowerPoint for presentations, spreadsheets for data and statistics or PDF for research papers and industry/government reports. Note that in Google filetype:ppt and filetype:xls will not pick up the newer .pptx and xlsx formats so you will need to incorporate both into your strategy, for example filetype:ppt OR filetype:pptx, or run separate searches for each one. In Bing.com, though, filetype:pptx will pick up both .ppt and .pptx files.
6. Guardian Data Store (http://www.guardian.co.uk/data/)
For datasets and visualisations relating to stories in the news. This is proving to be a very popular site on both the public and in-house workshops. As well as the graphs and interactive maps the source of the data is always given and there are links to the original datasets that are used in the articles.
7. Company Check (http://www.companycheck.co.uk/)
Company Check repackages Companies House data and provides 5 years of figures and graphs for Cash at Bank, Net Worth, Total Liabilities and Total Current Liabilities free of charge. It also  lists the directors of a company. Click on a director's name and you can view other current and past directorships for that person.
8. BL BIPC industry Guides
The British Library Business Information and IP Centre's industry guides at  http://www.bl.uk/bipc/dbandpubs/Industry%20guides/industry.html highlight relevant industry directories, databases, publications and web sites. Excellent starting points if you are new to the sector.
9. Web archives for documents, pages and sites that are no longer "live".
Most people know about the Internet Archive's Wayback Machine at http://www.archive.org/and its collection of snapshots of websites taken over the years. There is also a collection of old UK government webpages at http://www.nationalarchives.gov.uk/webarchive/, and the British Library has a UK web archive at http://www.webarchive.org.uk/ukwa/.
10. Keep up to date
Keep up to date with what the search engines are up to, changes to key resources and new sites. Identify blogs and commentators that are relevant to your research interests and subject areas and follow them using RSS or email alerts.