Google search is about to get even more personal – possibly. If you are signed in to your Google account and search Google.com, Google includes and highlights content from people in your networks. This has been available for some time but a couple of months ago Google launched a field trial that added your Gmail to the search mix, and a few days ago they added documents from Drive. You have to request to be added to the field trial and it only works on Google.com. If you are interested in trying it out you can signup at https://www.google.com/experimental/gmailfieldtrial.
Above your results Google.com tells you how many personal and other results have been found. A head and shoulders icon next to a result indicates that it is from someone in one of your networks. Click on the number of personal results to see just those. Across to the right there are a head and shoulders and world icons. If you want to hide the personal results click on the world icon. If you have searched on a person or an organisation their Google+ profile, if they have one, is shown to the right of the screen. Above this, any messages or documents in your Gmail and Drive that match your search are displayed.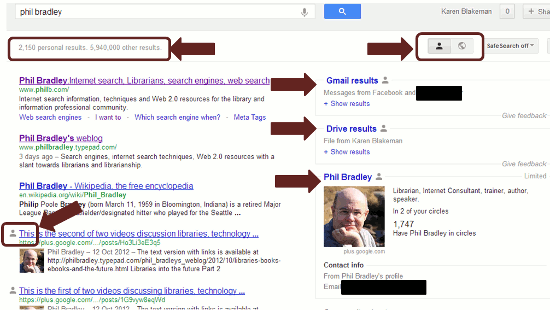 I have mixed feelings about this. At first I was very much against the integration of personal posts and data with general search. If I want to search Google+ I'll do it within Google+, and similarly I go into Gmail if I want to search my email. However, I would not routinely do that for research projects and during this field trial I have sometimes found useful information in my Google+ circles, giving me a very different view of the topic/person/organisation I am investigating. The question then is can I pass this on to a client or include it in a report? The answer is not straightforward. If the Google+ posting has been made public and not restricted to a circle then yes. Otherwise I would have to obtain the person's permission to use it or pass it on. With Gmail I would have to obtain permission from all the parties concerned and I would also need to check the ownership of any documents identified within my Drive.
I can clearly see and understand the difference between public and private search results as I am sure all information professionals and many researchers can, but I do wonder about other Google users. "It's come up in a Google search so I'm free to use it as I want". It could be argued that you shouldn't put anything up on Google+ unless you don't mind it going public, even if you have restricted it to a small circle of contacts but email should remain private and be kept out of general search results. I can see legal actions looming!
This is a limited field trial, though, so not everyone who uses Google.com is seeing the Gmail and Drive results yet. If you do take part in the trial and have any concerns about how it works and potential privacy issues, there are feedback links next to the Gmail and Drive results. Use them!