First of all let us make sure we all know the difference between lions and coots. As far as I can recall, lions are huge, snarly, growly, land animals that are liable to eat you if you cross their path. This appears to be confirmed by Wikipedia (http://en.wikipedia.org/wiki/Lions) but of course Wikipedia could be wrong. Coots are  medium sized water birds (http://en.wikipedia.org/wiki/Coots) and the worst that could befall you should you antagonise one is a severe pecking.
I was walking by the Thames in Caversham today and took several photos of the birds on the river. One was of two coots who were having what appeared to be a minor domestic or an argument over territory, but a friend suggested to me that what I saw was coot mating behaviour. What do you do in a situation such as this? You Google.
My search on coots mating behaviour came up with: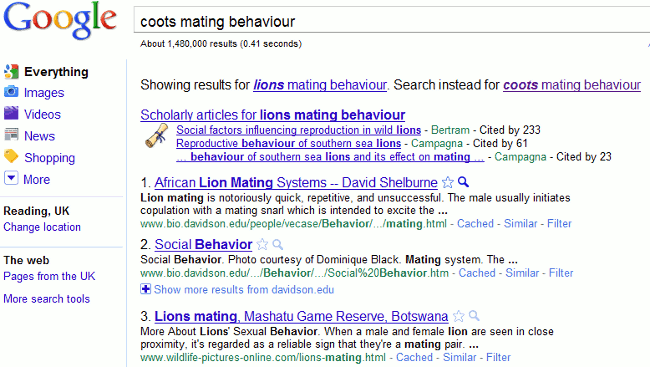 Where the [expletive deleted] did the lions come from?? I just do not understand how Google managed to replace coots with lions. One is a water bird with wings, feathers, and a beak and the other a large, aggressive land mammal with fur, claws and big teeth. But Google, yet again, has decided to go off and run its own search. (See my posting Oi! Google – you have seriously overstepped the mark http://www.rba.co.uk/wordpress/2011/01/03/oi-google-you-have-seriously-overstepped-the-mark/).
So did I get what I wanted by clicking on "Search instead for coots mating behaviour"? Yes I did, but Google still thinks I really want to search for lions and asks "Did you mean: lions mating behaviour". Google has totally lost the plot.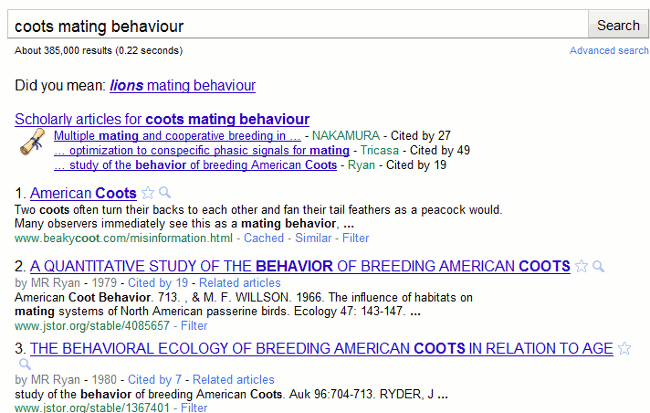 And the photo that started it all? That can be found on my Flickr account at http://www.flickr.com/photos/rbainfo/5438769506/. I think you will agree that coots are very different from lions (http://commons.wikimedia.org/wiki/File:P_l_Bleyenberghi.jpg)