Bing and Google have both announced that they have done a deal with Twitter that enables them to offer 'real time' Twitter searches. The Bing service is live now at http://www.bing.com/Twitter/. SearchEngineWatch has an overview of the service at Bing.com/Twitter: A Visual Tour. It looks impressive but as is so often the case with Bing the reality does not live up to expectations.
I have just returned from a conference on chemical information held in Sitges – hashtag #icic09. This should be an easy one for Bing Twitter to handle I thought. Silly me. Up came "We did not find any Twitter results or links for icic09″. I tried it with and without the hashtag – still nothing.  And yet both search.twitter.com and www.twazzup.com had no problem finding tweets from the conference.
Bing Twitter results on #icic09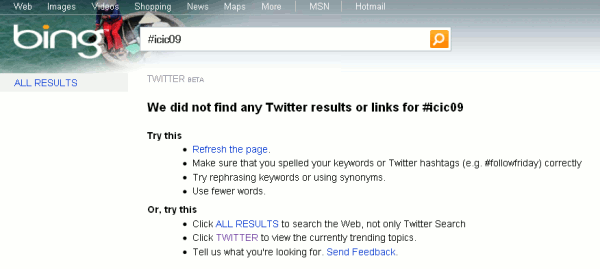 Twazzup results on #icic09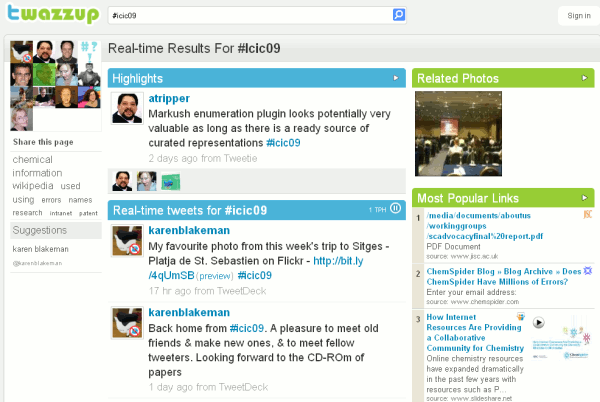 It also appears that you cannot search on a username. I then compared the results of searches on keywords and names that I knew had been tweeted at the conference: chemspider, chemspiderman, David Walsh, semantic mediawiki, markush. Nothing! It seems that the whole conference has been boycotted by Bing Twitter. I did begin to suspect that the service is not really up and running but searching on Nick Griffin came up with plenty of results and it found a tweet from one of my Twitter network about chickpea curry that had been posted a few minutes before.
There is something seriously wrong with Bing Twitter. Until they fix it and can present credible results I recommend that you give it a miss.
So what of Google's offering? It isn't live yet but there is useful discussion and comments on Google Social Search Is Coming & More On Google-Twitter. The main question for us as searchers is whether or not the Twitter search will be integrated into the standard web search or made available as a separate option. Tweets are already included in the web search as I discovered when I did a search on icic09 but they are spread out amongst the results. It would make sense to have a separate search tool such as Google's Blogsearch. Another option would be to incorporate it into the side bar under "Show options" (See Google new search and display options).
Bing have yet again snatched defeat from the jaws of victory. As for Google Twitter, we shall just have to wait and see.