Some of you may have spotted that Google has introduced some excellent new search and display options. Many of you probably have not – the link to them is very discreet, almost as though Google does not want you to find out about them. Carry out a standard Google search and to the left just above your search results you will see a "Show options" link.

Click on 'Show options' or the plus sign and additional search and sort options will appear to the left of your search results.

At the top of the list you can choose to limit your search to videos, blogs, forums or reviews.
Below that are options to restrict your search to "recent results", the past hour, past 24 hours, past week, past year or to your own specific date range. Not surprisingly the past hour, 24 hours and week pull up mostly blog postings and news articles. "Recent results" seems to pick results that go back about a couple of months.
As soon as you select any of the time options apart from the specific date range, additional options to sort by relevance or by date appear but the date option only sorts with most recent first. For some inexplicable reason sorting by date disappears if you want to specify your own range of weeks, months, or years; results are automatically sorted by relevance.
A word of warning about Google's date sorting: the "date" of many of the web pages bears no relationship whatsoever to the real date of publication or when the content was actually written. In these cases Google is using the date and time stamp assigned to the page by the hosting web server. Most web sites have been revamped and reloaded at least once in their lifetime and some pages are dynamically created at the time of search. The dates of blog postings and news articles are a little more reliable, although there too you can find anomalies.
If you want to quickly identify articles that fall within a specific time period you may be better off selecting the Timeline but this seems to only include articles from Google Current News and Google Archive News. Also, the list of results below the Timeline graphic does not include every year. You have to click on the bar representing the required years and only then are all the articles displayed.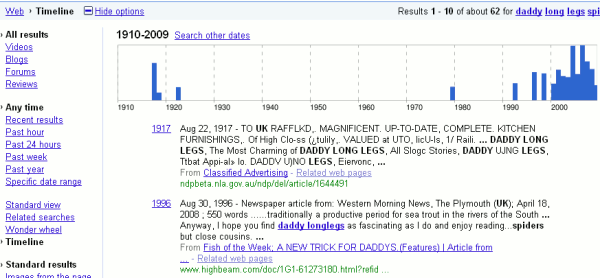 Related searches is obvious: this comes up with alternative search strategies that you might want to try. For me they would be far more useful displayed at the top of the standard search results rather than being hidden under  "Show options".
The Wonder wheel is difficult to describe in words as it is a clustering and visualisation tool combined. Click on a link on the first wheel and a second pops up with a different set of clustered links for you to follow. Try it and see if it works for you.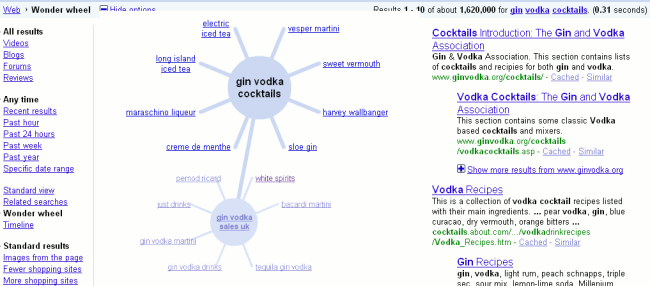 "Images from the page" adds thumbnails of images found on the page next to the text entry in your results list.
The "More text" option gives you a larger extract from each of the pages in the results list making it easier for you to decide which are most relevant for your needs.
And if you are fed up with seeing shopping sites in your lists or perhaps want more, Google has thought of that as well. Simply click on "Fewer shopping sites" or "More shopping sites". This works very well and reminds me of Yahoo's Mindset experiment that allowed you to move a slider bar between research and shopping to change the emphasis of the results. Sadly, Yahoo never incorporated it into its standard search and abandoned the project a while ago.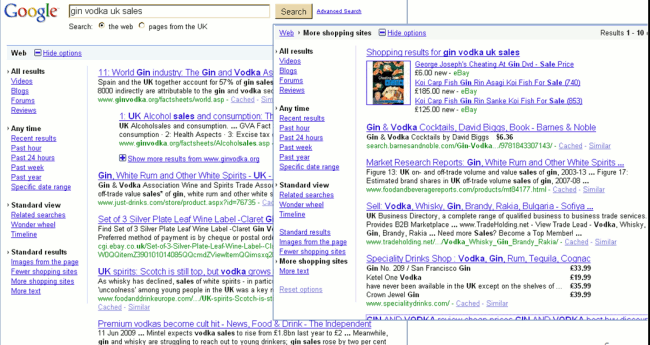 Overall, Google has come up with a winner here. I would not want to use every option for every search so having a bar from which you can easily select and combine them is a great idea. It is a pity that Google has not made the additional options more obvious.