Ixquick has changed its name to Startpage. The name and URL may have changed but the technology and way you use it is the same. Ixquick/Startpage is what is sometimes called a meta search engine, which I find misleading. It doesn't search web page or document meta-data but takes your search and runs it across several tools at once and generates a single list of results. For the Web option it covers All the Web, Ask, Bing, Cuil, EntireWeb, Exalead, Gigablast, Lycos, Open Directory, Qkport, Wikipedia and Yahoo. All are automatically searched by Startpage but you can de-select individual services if you wish. Google is conspicuous by its absence.
The great thing about tools of this kind is that it presents you with a single list gleaned from all of the search tools in the list. The disadvantage is that you cannot always use the advanced features of the individual services, although Startpage does have a go at addressing this. On the home page the Power Search option takes you to a page where there are boxes for "at least one of the words" (OR), "all the words", "exact phrase" and "without the words". There is also an expert search link that adds options for text in the title or URL, "at this domain name" (site search), pages "with links to this domain name", and type of domain name (but only .com, .edu, .gov, .net, .org). Note that there is no filetype search. You can bring this screen up by default when you connect to Startpage by going to My Settings and selecting Expert Search as Homepage search mode.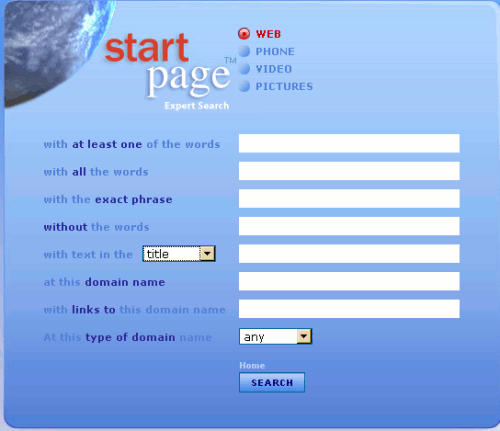 The site search seems to work well but the link option returns just a fraction of the true results and only displays the top 10. To find pages that link to a domain or specific page, searching direct on Yahoo or Exalead gives far better results.
As well as Web Startpage does video search, which is powered by Blinkx.com, and allows you to restrict your search to categories such as business, news, sport and entertainment. The Pictures (image) option is disappointing and there is no information on which search engines are used to compile the results. The phone number option varies depending on the country you select but again there does not appear to any information on which telephone directories are used. Oddly, there is a "reverse" option to find a name from a telephone number even if you select the UK as a country. When you click on search, though, Startpage says the combination is not valid. Hardly surprising since reverse lookup is not available for public use in the UK.
I don't generally use tools such as Ixquick/Startpage or Dogpile. If I want to search quickly across multiple search engines I prefer to use something like Zuula or Browsys Advanced Finder and click through the tabs for each tool one by one. There are many people who do use them, though, and Ixquick has often been named as a favourite by people on my Advanced Search workshops. It is all down to what suits you and what works for your type of searches.  From the feedback that I have had over the years Startpage is definitely worth trying.