http://www.techhit.com/TwInbox/twitter_plugin_outlook.html
This free plug in enables you to view and manage your Twitterstream from within Outlook.
Technical requirements are Microsoft Windows 2000, XP, Windows Vista or Windows 7 with the latest Service Pack. Outlook 2003 SP3, 2007 SP2, 2010 (32-bit and 64-bit.). Note that TwInbox does NOT work with Outlook Express.
According to the web page, features include:
Update your Twitter status directly from Outlook.
Receive your Twitterstream updates in Outlook.
Archive, manage, group and search your tweets in the same way you manage your email
Search and track keywords
Group tweets by sender, topic, etc using the Search feature
Manage multiple Twitter accounts
Assign custom folder and categories to new messages
Use Outlook's "Reply" and "ReplyAll" commands to send twitter direct messages and @replies
Automatically sort new tweets into folders
Shorten URLs with bit.ly
See graphs of your Twitter usage statistics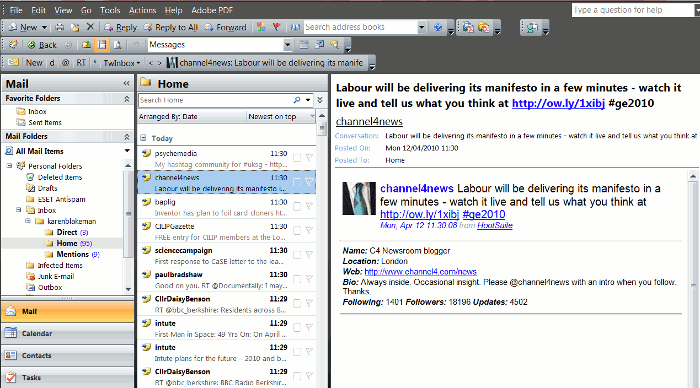 I am still experimenting so can't yet comment on how easy the above are to set up. I shall probably continue to use Tweetdeck as my main application for managing my Twitter accounts on a day to day basis. TwInbox, though, seems to be a quick and easy way of archiving tweets that contain information I may want to refer to at a later date.