You may have already read that Google now includes a creative commons license filter option in its Advanced Image search screen. Creative Commons is a series of licenses that can be applied to a variety of works such as images, video and PowerPoint presentations and they specify what you can and cannot do with those works. Information on the licenses can be found on the Creative Commons web site at http://www.creativecommons.org/.
Google does not use the CC terminology but has instead generated a pull down menu with the options: labelled for reuse, labelled for commercial reuse, labelled for reuse for modification,  and labelled for commercial reuse for modification.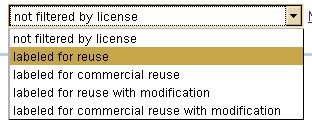 There is another option at the top of the list that is the default: not filtered by license. I had to think twice about this one because my first thoughts were that this was for public domain images. It is not. The "not filtered" option is all images. I ran the license options past a few people over the past week and they all immediately assumed that the default option is for images that you can use as you want.  A couple, though, then asked how "labelled for reuse" differed from this and then they became totally confused by the whole thing. To make it worse,  the licenses as listed by Google do not cover all the possible CC license conditions, for example attribution and share alike. So once you have done your search you still have to check the full license for the image that you wish to use. Furthermore, very few people are aware that you have to cite the license and any attribution as requested by the author.
Google says in its help files:
"By returning these search results, Google isn't making any representation that the linked content is actually or lawfully offered under a Creative Commons license. It's up to you to verify the terms under which the content is made available and to make your own assessment as to whether these terms are lawfully applied to the content."
The accuracy and validity of the Google implied license was raised recently in The Register: The tragedy of the Creative Commons . It comments:
"Since there's no guarantee that the licence really allows you to use the photo as claimed, then the publisher (amateur or professional) must still perform the due diligence they had to anyway. So it's safer (and quicker) not to use it at all."
I disagree with that: I recommend using it as a first level filter but then check with the original web site regarding the details of the license. At least you won't be spending hours wading through "all rights reserved" images.
If you do use the license filter you will notice that many of the photos come from Flickr, which is owned by Yahoo!. Yahoo! has had a Creative Commons filter on its Image Advanced Search screen for a long time but only on the US site, not the UK. A far better way of searching CC Yahoo images is to go straight into Flickr at http://www.flickr.com/creativecommons/.  This gives you a description of the different licenses and you can search images assigned that license. This assumes, of course, that the person who has uploaded the image is the owner of that image and there are stories that this is not always so. But how paranoid do you have to be? With respect to Flickr my approach is to take the photographer's word for it unless there are serious inconsistencies in their photostream, for example the  meta data associated with the photos suggests that they were in Armenia, New Zealand and Peru on the same day!
So where do you go for images that really are free to use.  There is a trick you can use in Google  to pull up just public domain images. Carry out your search on the standard Image search screen and when the results come up add
&as_rights=cc_publicdomain
to the end of the string in your br0wser address bar, and press enter. (Thanks to Barry Schwartz at Search Engine Land for this tip) . The test searches I have tried so far come up with photos from NASA, US government sites and Wikimedia Commons.  NASA is a safe bet for public domain images as are US government web pages, although there are a few exceptions but these are clearly labelled with any copyright restrictions.. A recent spat between Wikimedia Commons and the UK's National Portrait Gallery  – National Portrait Gallery bitchslaps Wikipedia: Hands off our photos! – has thrown suspicion on the validity of CC and public domain licenses attached to its photos. This appears to have been an isolated incident, though, and the high resolution images have now been removed if you are accessing the site from the UK.
Another source of public domain images is MorgueFile, which is a small database of high resolution photos but you may have to play around with your search terms before you find exactly what you want.
If you are looking for photos of buildings or locations in the UK then head straight for Geograph.  This aims to collect geographically representative photographs and information for every square kilometre of Great Britain and Ireland. Anyone can upload photos provided that they adhere to the guidelines and attach a Creative Commons Attribution-Share Alike 2.0 Generic license.
Geograph has saved me so much time. A few months ago I was trying to find a photo of the Great Expectations pub in Reading, Berkshire. Google, Yahoo and Live (now Bing) insisted on giving me photos of people reading a copy of  Charles Dickins's Great Expectations  while sitting in a pub in Berkshire. The image I wanted was probably somewhere in the list but I was not prepared to trawl through hundreds of results to find it. I typed in Great Expectations Reading into Geograph and I was there in a couple of seconds. Brilliant!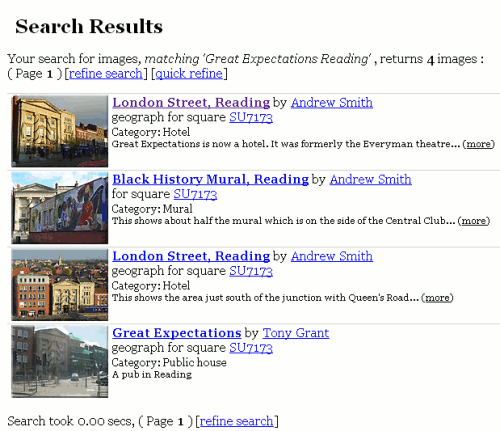 If you are interested in finding out more about finding and using images head for JISC Digital Media – Still Images.