Company Check (http://companycheck.co.uk/) and its sister website Company Director Check are two of the more popular services on my business and search workshops. They repackage official information from Companies House and provide much of it free of charge. I first reviewed them in 2011 (http://www.rba.co.uk/wordpress/2011/07/20/company-information-company-check-gives-more-uk-data-for-free/ and http://www.rba.co.uk/wordpress/2011/11/14/free-uk-company-information-company-director-check/) and since then there have been many updates and additions. A recent change is that company and director information have been pulled together on the Company Check website making it easier to flip between companies and directors. Data on companies in Ireland is also now available.
Companies and directors can be searched from the same search box. You then select the appropriate entry from a list of possible matches. The company summary is free of charge and includes a business overview, data on its status and business activities, and a list of trading addresses.
Also free of charge are the accounts and list of directors but you have to register (free of charge) to view the information. There are options for logging in with your Facebook, Twitter or Google account but if you prefer you can register a user name and password.
Five years of key financials (cash at bank, net worth, total current liabilities and total current assets) are shown as graphs and more detailed information is displayed in the Company Accounts Table.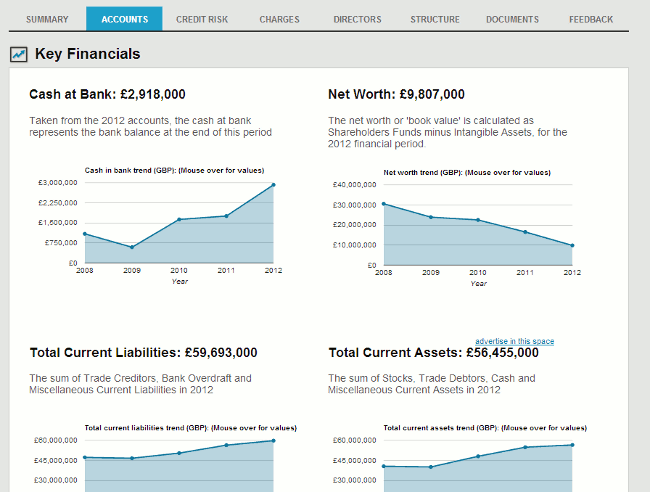 The financial statements submitted to Companies House can be downloaded free of charge as PDFs. Other documents lodged at Companies House such as "Change of director's details" or "Allotment of securities" are listed under the Documents tab and are £2 each.
The Credit Risk information (risk score, credit limit, payment data and key factors) and Charges (mortgages and County Court Judgments) are priced. For a single company the price is £4.99 + VAT, which gives you 30 days unlimited access to all premium credit data on that company for 30 days. If you are likely to be researching more than four companies on a regular basis it is worth upgrading to the All Companies options costing £20 + VAT. This gives you 30 days unlimited access to credit data across every company and director.
Current directors and secretaries for a company are listed free of charge. Previous directors and secretaries are part of the subscription service. The free director profile includes an overview, their registered details and a summary of the companies of which they are or have been a director. This can be more informative as a way of identifying connections between companies and other directors than looking at the company records in isolation. The full director report reports are £8.99 and include credit risk, CCJs, mortgages and charges, and a summary for each current appointment with key information taken from the associated company report.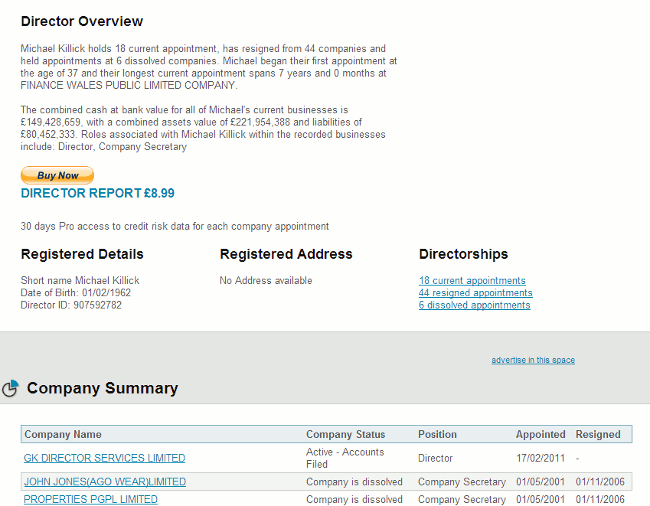 For both companies and directors you can set up free alerts and add them to a dashboard. This is an easy way to compare results for companies, with negative and positive changes in key financials shown as red or green arrows pointing up or down.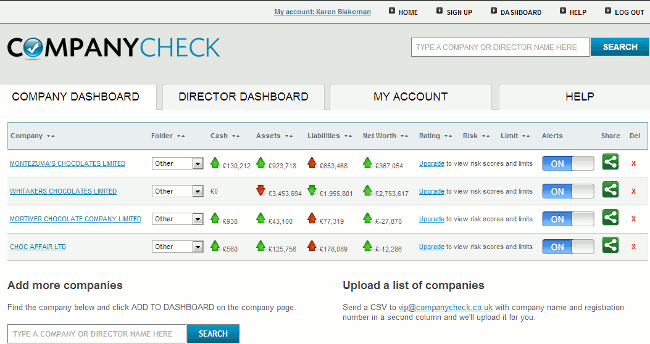 Company Check is not the only service providing free access to some of UK Companies House and Ireland company data. DueDil (http://www.duedil.com/) and Bizzy (http://bizzy.co.uk) are two others that are worth looking at. I understand, though, that Company Check  is working on additional services that are due for launch in the next few months. It will be interesting to see what they come up with.