Are your Flickr photos backed up? If Flickr accidentally deleted part or all of your account would you be able to quickly restore your collection? My own complete photo collection that has been gathered together from mobile devices and various cameras is stored on my laptop and an external hard drive, but my Flickr photos are a small subset and are organised differently. I would not relish having to rebuild my Flickr sets from scratch.
Flickr has just announced that it will be down for planned maintenance tomorrow (Thursday 24th) from 4 PM PDT to 10 PM PDT. As far as I am aware there have been no major data losses so far as a result of maintenance and upgrades by Flickr, but it once accidentally deleted a user's entire account (Flickr user gets back account after its accidental deletion http://thenextweb.com/media/2011/02/03/flickr-user-gets-back-account-after-its-accidental-deletion/). Flickr did, however, eventually manage to restore the account.
You cannot assume that maintenance and upgrades will be without incident, though. A couple of years ago some bloggers using Google Blogger lost posts as a result of problems that arose during maintenance. (Blogger still down; 30 hours of posts lost http://www.neowin.net/news/blogger-still-down-30-hours-of-posts-lost). My husband was one of those whose posts never reappeared but thankfully he had backups. Some of his articles are quite long and detailed so he is in the habit of preparing them offline before uploading to Blogger. He also has a full backup created using Blogger's Import/Export option (it can be found under Settings, Other). Flickr, however, does not offer an option to export your data so one has to resort to third party tools.
One of the best tools I have found to date for backing up a Flickr account is Bulkr (http://clipyourphotos.com/bulkr). This has to be downloaded to your computer and requires Adobe AIR to be installed. The free version allows you to download your photostream (small, medium or large sizes but not the original) and up to 15 sets.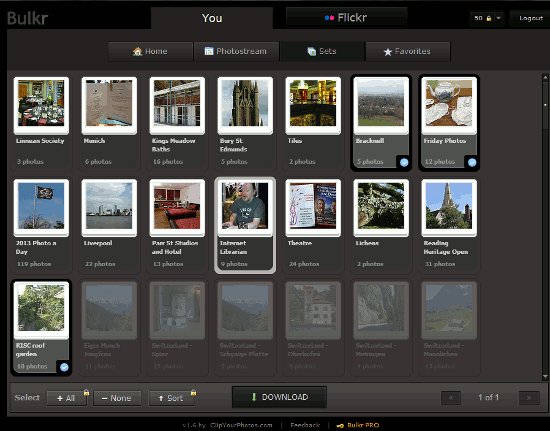 If you want to download all of your sets, the original sized photos and include the metadata (title, description, tags) then you will need to upgrade to the Pro version, which currently costs USD 29.99/year. There is a Pro+ option, which is a one time payment currently offered at USD 49. Bulkr does not download comments.
An alternative is MyFlickrBackup (http://myflickrbackup.com/), which costs USD4.99 and requires .NET Framework Client Profile to run. It downloads original sized photos and all of your sets, but not the metadata. Two other programs that have been recommended to me but which I haven't yet tried are FlickrDownload (http://www.onstation.org/flickrdownload/) and photoSync (http://webecoz.com/).
I'd be interested in hearing your experiences of any of the above, or if you know of other useful Flickr backup apps.