There are numerous services that take UK Companies House data and repackage it. Some of the data is offered free of charge but more detailed information and additional analysis such as credit reports are priced. bizzy (http://www.bizzy.co.uk/) is one such organisation but uniquely it also offers free credit ratings for many UK limited companies. (Note that it is the overall rating and not the full report that is available free of charge.)
To search bizzy simply enter the name of a company and bizzy presents you with a list of likely matches. Click on the company you want to view and as well as documents available for purchase you can see free of charge the names of the directors together with a list of the other companies of which they are directors, industry sector, date of incorporation, registered address, and a list of competitors and peers.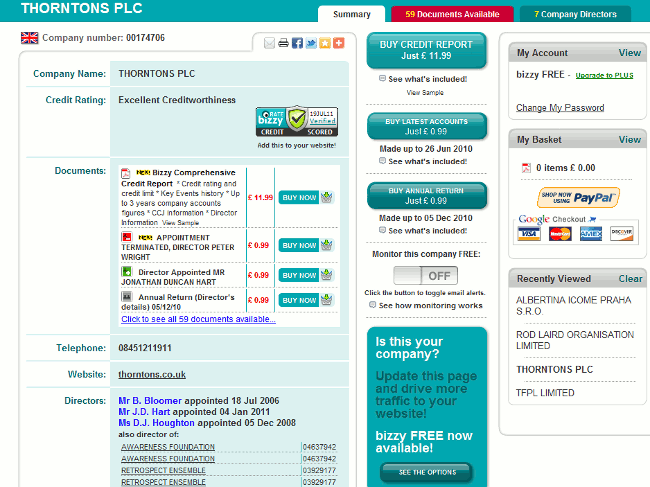 To see the credit rating of the company you have to register with the site. Ordinary registration is free but there is also a bizzy PLUS account (£9.99/month or £99/year). The PLUS account allows you to view credit limits, mortgages and CCJs, includes a Risk Tracker for monitoring companies of interest, and gives you a 15% discount on all purchases. If you have the bizzy FREE account you will only be able to see credit ratings that are from 100 down to 30. Those below 30 show "Not public for this company" for their credit rating. If you have signed up for the bizzy PLUS all credit ratings are displayed.
The bizzy credit scores are as follows:
 85 and 100 – 'Excellent Creditworthiness',
70 and 84  – 'Very Good Creditworthiness'
50 and 69  – 'Good Creditworthiness'
30 and 49  –  'Creditworthy'
15 and 29  –  'Credit Against Collateral'
0 and 14 –  'Caution – Credit At Your Discretion'
I ran a check on a company for a friend of mine. They had heard rumours about the company and were uncertain as to whether it was safe to do business with them. Would the company go under? There was little to go on at Companies House as the company was filing abbreviated accounts and had not filed documents for the previous year. I used bizzy FREE to run the search and no credit rating was displayed. In order to see how bad it was I bought the credit report (£11.99). bizzy gave the company a rating of zero and the long list of outstanding CCJs for unpaid bills was all the evidence we needed to avoid the company like the plague. (The company concerned has now gone into liquidation).
Official documents filed at Companies House and bought direct from them cost £1 but can be bought via bizzy for £0.99. That is only 1 pence less than the Companies House price and might not be enough on its own to tempt you onto bizzy but the additional free information might. An important part of company research is uncovering what the directors are up to and bizzy makes it very easy to view a list of directorships held by a person. On the Companies House web site this is only possible if you subscribe to the full service rather than the free Webcheck option.
I have found that the information on bizzy is often more up to date than that provided by some of the larger credit rating companies and bizzy covers every UK limited company, even very small ones. I tried searching for three small companies using http://www.do-business.net/sbc, which I have often used in the past, and none of them were in the database.
Bizzy also searches official information and sells credit reports on companies in other European countries. It is not obvious how you do this until you start searching on the company name. Above and to the right of the list of companies on the results page is a 'Search Country' box and it is from the drop down menu that you select the country.

Remember, though, that the amount of information that companies have to disclose varies from country to country and may consist of little more than name, registration number, status and address.
If you are researching UK companies I recommend that you consider including bizzy in your toolkit, but should you go for a FREE or PLUS account? It all depends on how much company research you think you'll do in a year. If it is just a handful then perhaps the free option will suffice but more than that and bizzy PLUS with its 15% discount and standard display of credit limits, mortgages, and CCJs makes more economic sense.