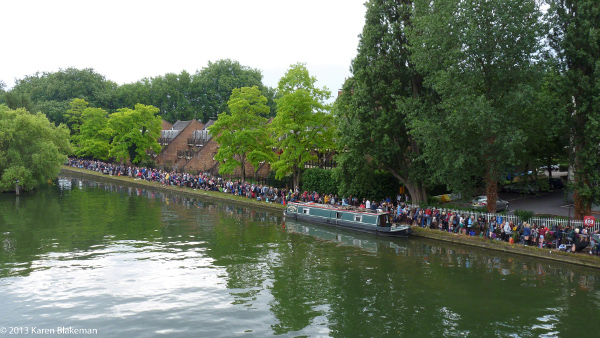 It is August bank holiday weekend and in Reading that means Reading Festival (http://www.readingfestival.com/). Festival goers started arriving in dribs and drabs on Wednesday but yesterday (Thursday) the main invasion started. The stages and campsites are upstream from Reading town centre and most of the fans arrive by train. A few walk to the campsite, many pile onto the extra buses laid on by Reading Buses, but it appears that the majority use what has become, over the last few years, the traditional means of transport – boats.
Every year boats ferry people to and from the festival site and among them are usually a couple of Dunkirk little ships. The emergency evacuation of Allied soldiers from the beaches and harbour of Dunkirk in France took place between 27 May and 4 June 1940. What were needed for the evacuation were boats with shallow draught, and hundreds of pleasure boats, private yachts and launches on the Thames and estuaries along the South and East coasts were involved in the evacuation.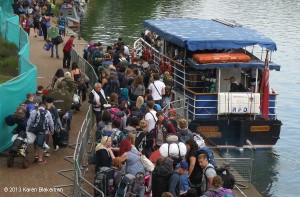 Some of the "little ships", as they came to be called, are still around and last year I saw the Princess Freda and Devon Belle at work over the festival weekend. I've already seen Devon Belle (pictured left) this year.
The Association of Dunkirk Little Ships (ADLS) was founded in 1966 following the 1965 25th anniversary commemoration of the Dunkirk evacuation. The ADLS web site (http://www.adls.org.uk) has a section that lists the specifications and history of the surviving little ships. The entry for Devon Belle, previously Seymour Castle, can be found at http://www.adls.org.uk/t1/content/devon-belle-previously-seymour-castle. It does not yet record the purchase of the boat by Thames Rivercruise (http://www.readingchronicle.co.uk/news/reading/articles/2010/05/20/46728-little-ship-sails-again/).
Check the ADLS database next time you go on a river trip. You may be cruising on a piece of history.