Zuula (http://www.zuula.com/) has a new interface and a new feature. Zuula provides an interface to many different search engines organised by type. Simply enter your search strategy, click on the type of information you want (web, image, news etc) and then click on the tabs of the search engines one by one to see their results. It is a quick and easy way to run a basic search through several tools in succession.
Zuula's new interface is slicker and now automatically de-duplicates web search results. The first in the list is Google and you will notice that the results are numbered. Click on your next choice and you may notice that the numbered results do not start at number one.  At the top of the results list there is a plus sign and the text "Why minimized?" Zuula compares the results with your previous choice and "minimizes" duplicates under the plus sign. To see those results, click on the plus sign.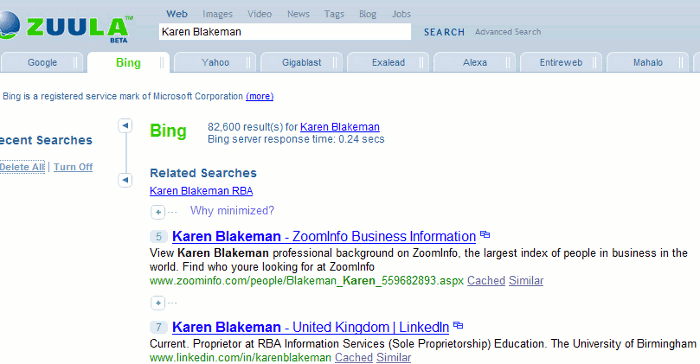 The other search types do not seem to support de-duplication but some are pulling in additional search features on the results page. For example images offers size, content (face, photo, illustration, line drawing) and colour. Some of the blog options offer restrictions by date (anytime, last day, last week, last month, last year).
You can change the order of the search engines under Preferences and also increase the number of results per page to a maximum of 60.
If you haven't tried it out already give Zuula a go now.