… and it is GHASTLY!
It is Monday morning and on my of list of things-to-do when I fire up my laptop is to check My Yahoo! This is where I monitor stocks and shares, news headlines, weather forecasts and have tools such as currency conversion. Before going to My Yahoo I always go to the main Yahoo! UK & Ireland page to view the national and international headlines and see what's new. This morning was a real shock. The home page has changed dramatically and not for the good.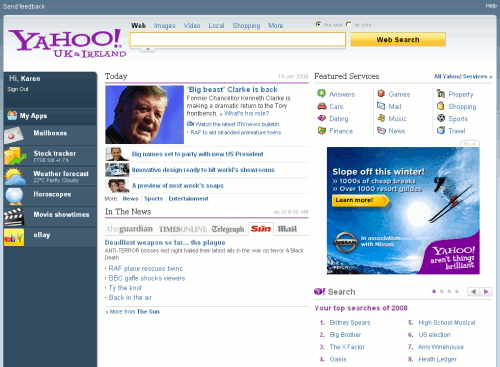 Apart from the hideous colours and layout there is no direct link to My Yahoo any more. It is now under 'All Yahoo Services' (in very small type on the right hand side). The 'My Apps' on the left are definitely not My Yahoo apart from the weather forecast and the stock trader. The latter clearly does not work in this context as it tells me that today my stocks and shares are up GBP 270,165.49 and that my portfolios are worth 2,907,437.49. In my dreams! I am not interested in horoscopes, mailboxes, videos and eBay but there does not seem to be any way of getting rid of them.
Thankfully search.yahoo.co.uk is still plain vanilla. I have now bookmarked My Yahoo and won't bother in future with the Yahoo home page. I am now wondering what Yahoo has in store for us next.