Alacra has launched a new search tool for industry and market sector information called AlacraSearch. It uses the Google Custom Search Engines and has approximately 12,000 Alacra chosen sites in eight categories:
Business & Trade Publications
Law Firms
Commercial & Investment Banks
Consulting and Accounting Firms
Educational Institutions
Market Research Firms
Trade Associations
Venture Capital & Private Equity Firms
The service is free and supported by advertising.
On the main search screen you type in your key words and select a category. On the results page you can easily switch categories. For example, having run a search on 'beer UK market share' in the Business and Trade Publications category I could switch to Trade Associations or Market Research Firms. Depending on which category you choose to search, you can further refine your results by industry or geography. Having carried out my initial 'beer' search in Business & Trade, I can narrow down the publications further by selecting Food & Beverage.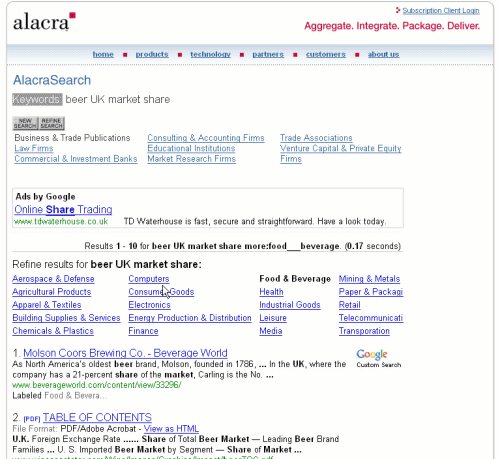 Alacra already has an industry research tool on Alacrawiki called Alacra Industry Spotlights that has a page for each industry describing the key resources for the sector. The Spotlights are ideal if you are new to a sector and need to get up to speed on the main publications. AlacraSearch complements Alacra Spotlights by enabling you to search these and other sources by keywords. I now regularly use both and find that they are an excellent way of quickly focusing on quality business sites.
Highly recommended if you are looking for a business information search tool.