The snow has started to clear in Caversham and the lower half of the road on Donkin Hill looks as though it has been repeatedly bombed. Major cracks, huge potholes and an alarming amount of subsidence are now in evidence. It is a scene that is going to be repeated over the whole of the UK in the next few days as the snow and ice retreat to reveal the damage caused by the freezing weather. I shall be out with my camera and reporting the state of the road to the council via FixMyStreet (see my earlier posting on this excellent service). I am sure our local Council will be inundated with similar reports from around Reading.
Potholes.co.uk is run by Warranty Direct who specialise in used car warranty, new car warranty and extended warranty. It is a "Campaign website to highlight poor state of British roads and help motorists seek compensation from Councils". Type in the first part of a postcode or the name of a town to view a Google map showing the location of any potholes in the area. Click on a marker to see a more detailed description of the problem.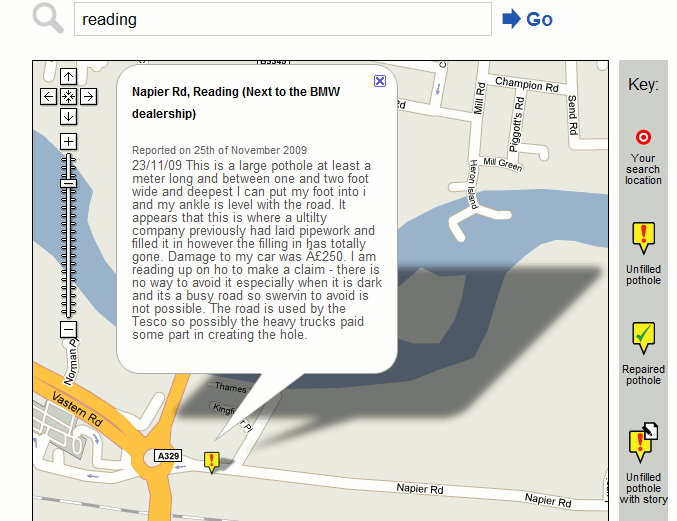 To report a pothole you need to register and sign in. First enter a title and description and then the street name and town. A Google map should appear with a marker and you can then drag the marker to the exact location of the pothole(s). You can also upload a photo. Once you have submitted your report you are taken to a page where you are encouraged to report the problem to the local council.
There is a blog at http://www.potholes.co.uk/oursays where they talk about pothole issues and highlight news stories. Potholes.co.uk is also on Twitter at http://twitter.com/potholesuk/
I am not sure how useful this site really is for motorists as it is dependent on people reporting potholes to the web site, so it is not comprehensive. It is also not clear who marks the potholes as filled when the repairs are made. Feedback on both of those points would be welcomed.
Thanks to @cllrdaisybenson for the tweet that alerted me to the site.