Whether at work or at home, a fast and reliable internet connection is an essential for many of us. An increasing number of people spend at least one day a week working at home, some run their businesses from an office at home and, like it or not, the UK government and utility services are pushing us in the direction of managing our business and personal affairs online. There are numerous broadband providers touting their wares and trying to persuade us to switch to their super duper fast services with promises of  24 MB downloads, but the speeds achieved in reality are often far less. In some areas there is no broadband access at all. The problem is that should you discover you have been sold a very expensive dud you could be stuck in a 12 month contract with no easy way out. If you are moving house or thinking of switching provider you need to know what is possible in theory, which providers are available in your area and the speeds that people are actually getting.
First, can you get any broadband at all? For a long time after it was introduced I was unable to have broadband. The length and quality of the cabling from the exchange to my street was such that it was doubtful I would maintain even a 256 KB connection. And, no, I do not live in the middle of nowhere but in Caversham on the other side of the River Thames from Reading. I kept checking the BT broadband availability page (http://www.dslchecker.bt.com/adsl/adslchecker.welcome) and finally, after a major line and cable upgrade, I discovered I could have 1-2 MB – possibly. I went with an Eclipse business package – recommended by several colleagues – and muddled along with around 1MB download speeds for a couple of years. The only major issue I had was the time taken to download software and BBC iPlayer programmes (around 1.5 hours for a 45 minute broadcast). A few weeks ago the availability checker had good news: my exchange had been upgraded.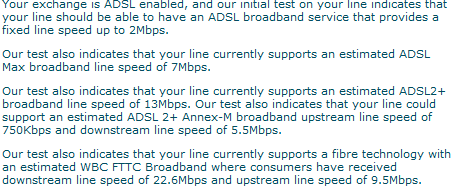 Eclipse upgraded me and I am now whizzing along at 11-14 MB download and 500-600 KB upload.
The second matter is that of speed, and I do not mean what the providers claim on their web sites or in their glossy brochures. Broadband Speed Checker at http://www.broadbandspeedchecker.co.uk allows users to test their actual line speed. As well as running the speed check you can add your test results to a Google map by giving your postcode and see other results for the surrounding area. If you are moving house or just want to see what is available in a neighbourhood go straight to http://www.broadbandspeedchecker.co.uk/broadband_speed_in_my_area.aspx and enter the postcode.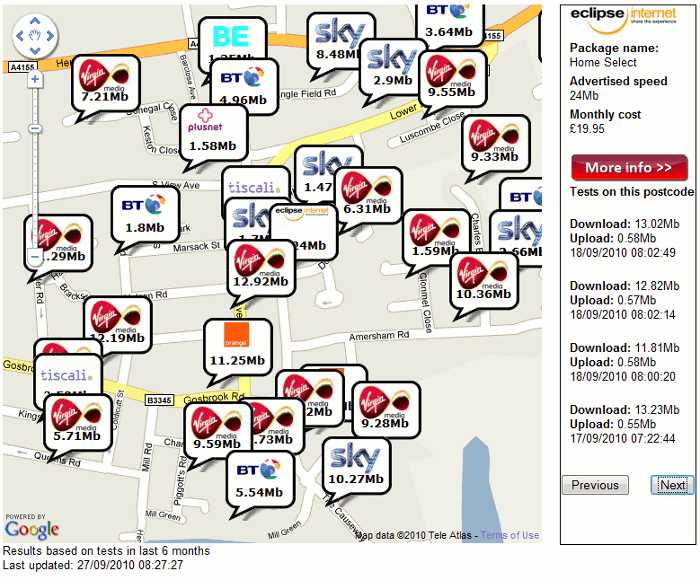 Speech bubbles mark the approximate location of the speed tests and give the name of the provider with the average download speed. Results are based on tests at the location over the last 6 months. Click on one of the bubbles and you can view the individual test results. Some have only one whilst other people seem to run them regularly. The broadband package, price and advertised speed are given but this might not be totally accurate. My own business package was not listed so I had to pick the closest home package in terms of speed and price. The maximum speed advertised for me is 24 Mb but I was told by my supplier that I would be unlikely to reach that. At 11-14 MB I am not complaining – it is at least 10 times what it used it be. I do feel sorry, though, for those poor souls who are paying for 20 MB and barely reaching 1.5 🙁 It is probably why they ran they tests in the first place. Evidence with which to confront their provider!