This page on MoneySavingExpert. com provides information on the protection offered by the FSCS (Financial Services Compensation Scheme) for UK savers. It outlines what type of savings and investments are covered by the scheme, should your bank or building society collapse. If you are in the fortunate position of having saved more than £50,000 – the maximum amount you would receive under the FSCS should your bank go bust –  then you ought to  think about spreading your investments across more than one financial institution.
There have been so many mergers in the UK banking sector that it is easy to lose track of who owns whom. To add to the confusion, two banks may have merged but still be registered as separate institutions under the FSA.  A table shows you which banks are standalone and which are part of the same institution. Any banks shaded in the same colour (except white) are linked and share protection. If you have money in a combination of linked banks you only receive one lot of the FSCS £50,000 safeguard. For example, if you have £40,000 in Birmingham Midshires and £30,000 in the Bank of Scotland you would only receive £50,000. In contrast NatWest and the Royal Bank of Scotland are at present registered as seperate institutions under the FSA and treated accordingly by the FSCS. If both went under and you had £40,000 in one and £30,000 in the other you would receive £70,000 under the FSCS.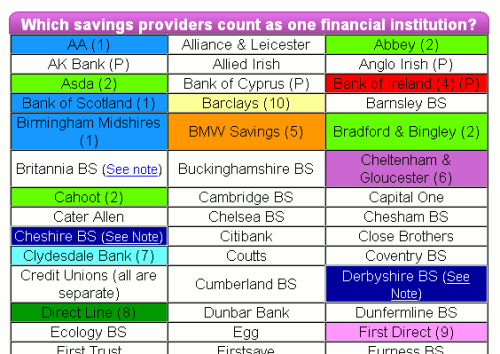 There is basic information on European owned UK banks such as ING Direct, which are treated differently, and links to relevant pages on the FSA and FSCS web sites.