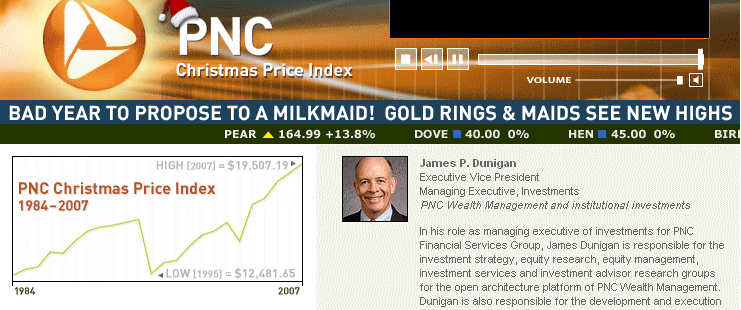 PNC Wealth Management and institutional investments have released their annual report The True Cost of the 12 Days of Christmas. PNC have been monitoring the cost of all the items gifted by True Love in the popular Christmas song since 1984. The 2007 Christmas Price Index showed an increase of 3.1% over 2006. The five gold rings rose by a whopping 21.5%, reflecting the general trend of increasing commodity prices in the Consumer Price Index, and geese-a-laying are up by 20%. Maids-a-milking cost 13.6% more because of an increase in the federal minimum wage. In total the cost of all Twelve Days of Christmas, including the repetitions, comes to USD 78,100.10.
Interestingly, shopping on the Internet is not cheaper mainly because of the shipping and transportation costs involved particularly when it comes to livestock. Agency fees and travel expenses probably contribute to the USD 11,283.23 for the 10 Lords-a-leaping hired via the Internet, compared with USD 4,285.06 for hiring them through more traditional channels.
What the report does not cover is how True Love might be expected to fund this annual extravaganza. Taking out a new credit card or increasing the credit limit on existing cards is going to be more difficult in the current economic climate. House prices, in the UK at least, are at best static but starting to fall so re-mortgaging is not going to be a sensible option. There is also the question of air miles and green-house gas emissions generated by this giftfest. One source estimates that the total comes to 54.4 tonnes. Perhaps True Love should play the green environmental card and not send anything this year, thereby reducing his carbon foot print and doing his bit to help combat global warming.