Prof. Chris Rhodes - Media File
Home Page | Blog: Energy Balance | CV | Publications | Media File | Conferment of DSc | University Shambles
Media Interviews
BBC Radio Bristol, 29th February, 2012 (Rising fuel prices)
BBC Radio Somerset, 12th December, 2011 (The impending supply-demand gap for oil)
BBC Radio Bristol, 12th December, 2011 (Peak Oil and its consequences for society)
BBC Radio Berkshire, 24th September, 2009 (Massive detergent spill in Slough).
Portsmouth Today, interview 1st of October, 2008 (Pollution from catalytic convertors?)
Chemistry and Industry, interview 19th August, 2008 (Bioethanol production using magnetic fields)
The Economist, interview 21st August, 2008 (Future energy technologies)
Sunday Times, interviewed 25th June, 2008 (Oil in Surrey)
Al Jazeera, 26th June, 2008 (Oil prices)
TalkSPORT radio show (interviewed by George Galloway), 6th June, 2008 (Peak Oil and oil prices).
BBC Three Counties, 4th April, 2007 (Wind farms)
Chemistry and Industry, interview November 26th, 2007 (Hydrogen from bacteria)
Radio Cleveland, 6th July, 2007, (Wi-fi Electricity)
The Sunday Mirror, interviewed 4th April, 2008 (Radiation)
The Scotsman, interviewed 28th April, 2008 (Biofuels)
BBC Radio 4, "The Material World", Jan 19th 2006 (Zeolites)
Blog
Energy Balance http://ergobalance.blogspot.com
Columnist for Scitizen
In "Future Energies" http://scitizen.com/future-energies/
Columnist for Forbes
In "The Energy Source Blog: Electricity, Gas, Alternatives" http://blogs.forbes.com/energysource/
Global Warming as Seen from the Standpoint of Fundamental Physics and Chemistry
An ongoing project by A.Koewius and C.J.Rhodes (translating from the German language into English): http://www.koewius.de/Website/Climate_Change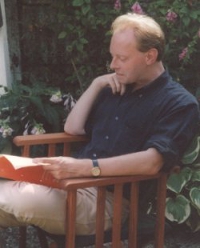 Email: cjrhodes@fresh-lands.com
My first novel University Shambles is available at http://www.universityshambles.com