University Shambles
A novel by Christopher James Rhodes
University Shambles Home | Reviews | About the Author
The Cut-throat World of Brave New Academia
"very funny and true to life" "deliciously vicious"
Charles Rae is a young, rabidly ambitious particle physicist who is offered a professorship at the newly fledged Evergreen Epstein University (EEU), making him the youngest professor of physics in the world.
His elation chills as he rapidly finds himself drawn into a twilight-zone scenario that appears to have been deliberately engineered for his destruction.
In University Shambles, Chris Rhodes has created a bitingly accurate observational satire which targets the politics of academia, the transformation of the university system and - inescapably - the foolish vanity of academics. The adept combination of character, sharp satire and comedic humour make good reading and he has given us a new and much-needed phase in the evolution of the campus novel, taking-on the hypocrisies and spin of 'education, education, education'.
Buy a copy
Kindle version of University Shambles available.
Hardcover copies can be purchased from Amazon, Waterstones and Blackwells
Signed copies
A limited number of signed copies are also available direct from the author at £10/per copy plus £2.75 P&P. Buy using your credit/debit card via PayPal. Orders are handled by Publications at RBA Information Services.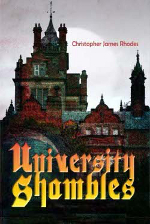 About the author
Published by Melrose Books
ISBN: 978 1 906561 39 0
Hardback with dust jacket 234mm x 156mm, 216 pages
Twitter: http://twitter.com/universitysham